The requirement - allow customers to place orders themselves using a mobile app
Fowler Oldfield approached Onsight about creating a digital catalogue and customer self-service ordering system for use by professional jewellers. The company wanted to provide a tool to allow jewellers to comfortably browse products electronically in a retail setting without ever needing to use paper catalogues again. This would allow jewellers to sell Fowler Oldfield products even if they didn't have it in stock - a way both to reduce inventory costs for jewellers and increase sales for Fowler Oldfield.
The information that was to be displayed on this catalogue needed to be up-to-date at all times, provide accurate product dimensions and show customers high-quality images of products from all angles so that ultimately the most informed decisions can be made. In addition, the app needed to allow the jeweller to place orders with Fowler Oldfield so that products catching a customer's eye could immediately be requested.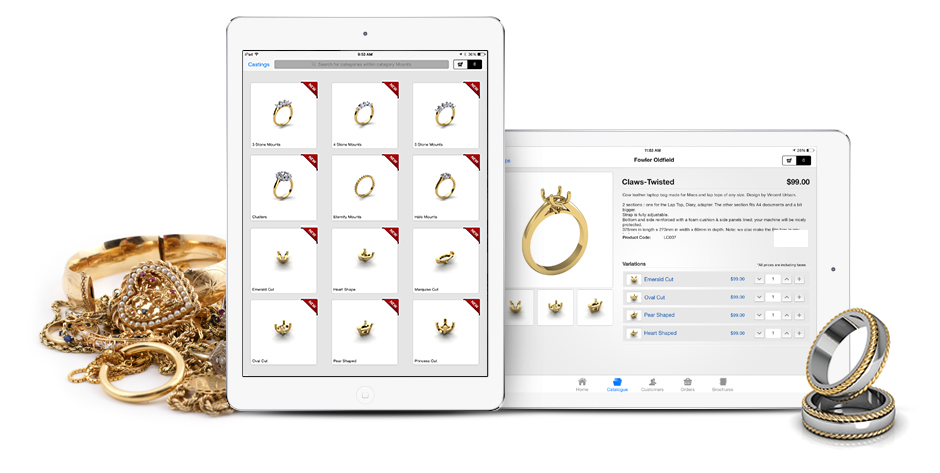 The solution - a customer self-service ordering system
Onsight provided the company with a personalized electronic catalogue which Fowler Oldfield have called "The Jeweller's Pad". Customers visiting jewellery stores can now browse products, whether they are currently in stock or not, in a retail environment. They can also use the app to immediately place orders with Fowler Oldfield for the desired items. This helps the jeweller save on inventory costs. The app also ensures that they order correctly by showing them the most updated information on hand.
"The Jeweller's Pad" is loaded onto custom Android tablets purchased by Fowler Oldfield and delivered to their retail partners. The tablet is locked down so that only the catalogue and ordering functionality can be accessed. As Daniel Rawson, Chief Executive at Fowler Oldfield explains: "Using Onsight is the nearest option we found to having a bespoke app. The Onsight team talked through our needs and developed options that give us the actual system we require. Nothing has ever been too much trouble and they are very quick to help with problems."
The product itself is eco-friendly (an issue that Fowler Oldfield is passionate about) since the process of uploading, showcasing and ordering products is done entirely on mobile devices and requires no printing or paper catalogues that need constant reassembling.
"The Jeweller's Pad" has been created to update automatically whenever new products and features are added. This saves time as well as ensures that customers get to select the products that are available. Those using "The Jeweller's Pad" have the ability to assign different prices to different customers depending on whether they are retail or wholesale. A powerful search and filter function saves customers even more time when looking for the exact products that they need.
View previous case study
View next case study