The requirement: streamlined, digitised business processes
Cosimer provides wholesale distribution services for several international cosmetics and beauty brands such as Mavala, Jacadi Paris, SOS Talisman and Color & Soin. The company leverages its distribution network of hundreds of high end pharmacies and beauty salons to help these brands grow their footprint in the Australian market.
Remi Bouchenez, Cosimer's Managing Director, wanted to streamline the company's business processes and implement digital workflows. All phases of the distribution cycle needed to be optimised and digitised: ordering, stock management, dispatching and delivery.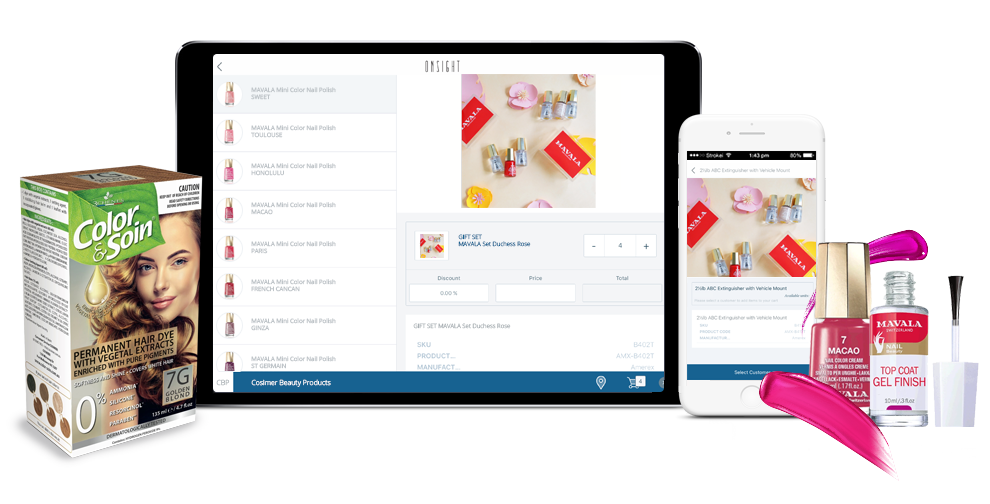 The solution - Onsight and Xero
Two systems have allowed Cosimer to adopt an all-digital method of operating: the Onsight B2B sales app and Xero Accounting, a leading web-based accounting system.
Cosimer account managers use the Onsight app when they go out to visit pharmacies and beauty salons. They use the app to capture orders onsite and these orders then immediately get sent back to the Cosimer office for processing. Orders are then dispatched from the company's warehouse facilities near the Port of Melbourne. In addition to this, Cosimer make use of Onsight's Xero connector. This means that orders automatically get imported into Xero with no need for any extra data entry.
Eliminating data entry is not the only benefit of the Onsight-to-Xero integration. Cosimer reps can check stock levels in the Onsight app as it is linked directly with the inventory numbers in Xero. They can also see previous customer orders via the app. Lastly, Cosimer make use of the packs functionality in Onsight to create groups of products to enable the merchandising of items that are often ordered together.
Cosimer's Managing Director, Remi, concludes that "Onsight is making our in-store ordering process easy and efficient. Our reps love the simplicity of the app and the easy-to-navigate catalogues which allow them to show our customers our latest products and order on the spot. The integration with Xero allows us to convert orders into invoices instantly, dramatically improving the efficiency of our order processing."
View previous case study
View next case study