The requirement: a faster way to issue invoices from Alegra
Miel's service technicians use the Onsight app to prepare quotes on site that show the items and accessories necessary to complete the installation of a water heater. In subsequent visits, they prepare orders for the spare parts needed for maintenance. This allows the customer to know exactly the cost for the installation or for the maintenance since the customer receives a PDF quote or order right away delivered to their email address.
All of this was working well but after using Onsight successfully for several months, Miel was starting to see problems arise with how invoices were issued. Being based in the Dominican Republic, Miel uses Alegra, a web-based accounting software package that is used by hundreds of thousands of small and medium sized businesses in Latin America. Issuing invoices to clients was turning out to be a time consuming process. A typical installation could include an average of twenty different plumbing accessories. After instantly creating an order in Onsight for the customer, those plumbing accessories would need to be manually entered once again, one by one, into Alegra so that the customer could be issued an invoice. Alexánder Liz, Miel's Marketing Manager, reached out to the Onsight team to find out if they could build an integration between Onsight and Alegra so that customer invoices could be prepared automatically.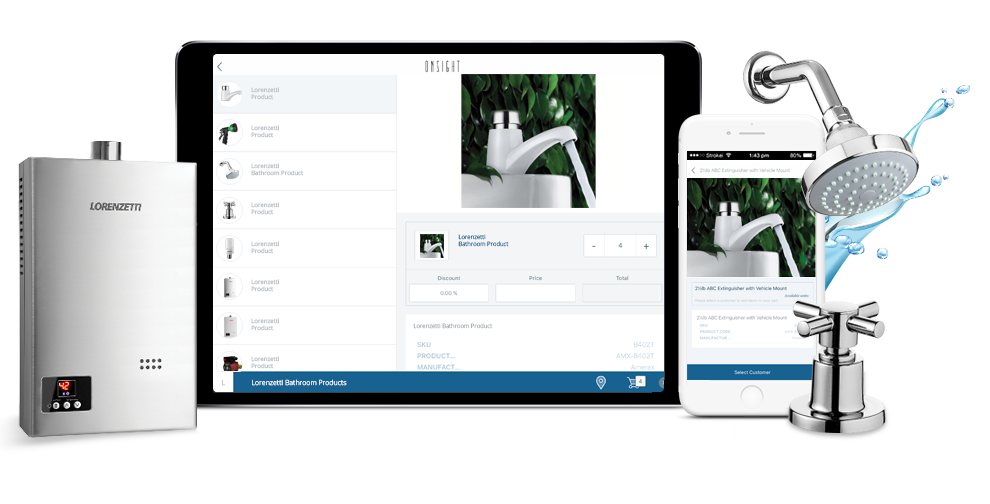 The solution - Onsight speaks to Alegra
The Alegra application is in Latam Spanish and has many country-specific business rules. This presented a challenge to the English-speaking Onsight team. However, with some translation assistance from Alexánder, the Onsight team was able to build a connector between Onsight and Alegra. The connector imports customer and product information from Alegra into Onsight. Miel's service technicians can then see the latest product info and stock on hand numbers whilst visiting customers. After an order or quote is captured in Onsight, the connector sends that sales order or quote directly into Alegra. This eliminates the need for any double entry and reduces the potential for human error that comes with manual order entry. The Miel finance team then receives the order in Alegra, and with one click they can turn it into an invoice.
Miel also has customers that are retail stores that resell the Lorenzetti product range. These retail stores can log into the Onsight app or Onsight website and see the availability of products, see detailed descriptions and technical specs for those products, as well as see photos for those products. This reduces the time required by Miel's personnel to keep customers informed about new products. These retail stores can even order or quote without the need for a Miel sales rep to be present. Just like the service technician orders, these customer orders get sent to Alegra as draft invoices, and can be converted into a final invoice in an instant.
Alexánder is extremely pleased with the results of implementing Onsight and the integration with Alegra. He adds that "Onsight saves time, makes the sales process faster and allows for customers to place orders outside of business hours. Lastly, the support of the Onsight team is second to none."
View previous case study
View next case study