The challenge - finding a suitable sales app
The LSN business strategy is based on engaging with small retail shops, sports stores, gyms and hotel clubs and requires a dedicated team of sales reps to promote the new and specialised nutrition products that LSN distributes. The company realised that a sales app would enable them to service this target market much more effectively. Barry Doyle, IT Manager at Leydens, set out to evaluate a number of online ordering systems and mobile apps to use within their business and after careful assessment Barry chose the Onsight sales app.
When asked what factors led him to choose Onsight, Barry explains, "I found the app to be very easy to use. The bulk upload facility was very powerful and suited our needs. The technical support is excellent and any questions or issues are sorted very quickly, usually in the same day. In addition, the app design is very intuitive. It requires little or no training for reps and customers to use it effectively. Lastly, the product catalogue layout is very clean and product images are presented well."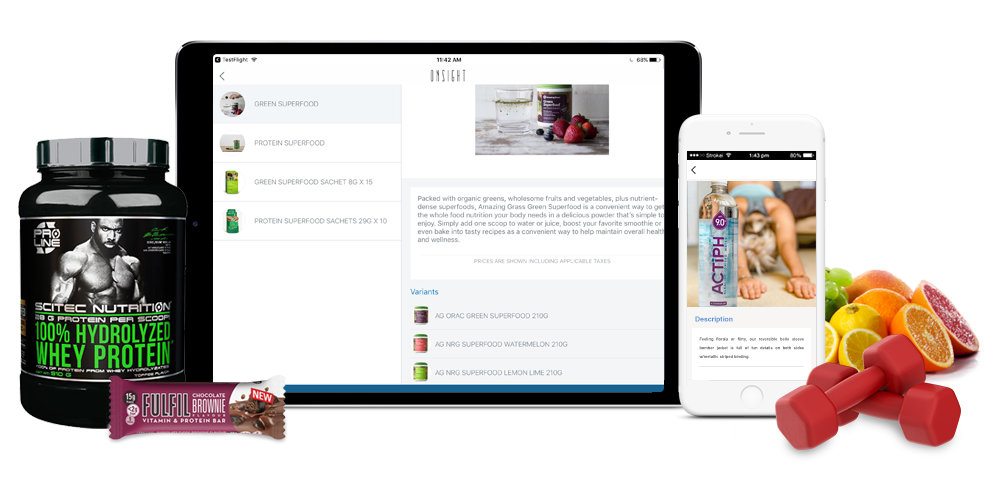 The result - an app that enables business growth
Since 2015, the LSN division has grown to ten sales reps who operate across Ireland, visiting customers and taking orders using 4G-enabled tablets for almost 2,000 active LSN products. The company makes use of the the 'master-variant' product concept within Onsight to maintain the myriad of flavours and variants that they have in their product portfolio. Due to increasing demand, Leydens decided to extend their enterprise license to their business customers. This allows these business customers to log in and to place orders directly from the Onsight app. Barry says that "this has worked very well and more than 30% of our LSN monthly turnover is now ordered directly by customers through our app."
The sales reps can also access a customer account and place orders on the customer's behalf, if needed. Once orders are placed, the LSN back office team pick the order and ship it to customers usually within the same day. The status of the order is updated so that customers know that Leydens have shipped the order and the customer also receives an email with updates. Barry concludes that "the Onsight app provides LSN with the ability to receive and track significant volumes of sales orders from our customers. It would be very difficult to run our LSN service efficiently without Onsight."
View previous case study
View next case study