The requirement - replace time-consuming paper-based ordering
Anna Chandler Design stocks 800 stores across Australia and has five very busy agents, one in each state. Before moving over to Onsight their sales and ordering processes were entirely paper based. An agent would go to a client with a triplicate blank order book and manually write up orders. Order totals were determined using a handheld calculator and a separate printed pricing list.
Due to the costs and time involved with reprinting the pricing list each time a change occurred, information at hand was not always up-to-date. This meant that, to ensure accuracy, the agent had to contact the offices before an order could be placed to check if the items requested were in stock. The client's credit also had to be checked during this time.
Once the order was finalized, a manual paper copy of the order was handed over to the customer and a copy also faxed to head office to start processing the order for packaging and delivery.
Not only was this whole process time-consuming for both the agents and their clients but also highly vulnerable to human error.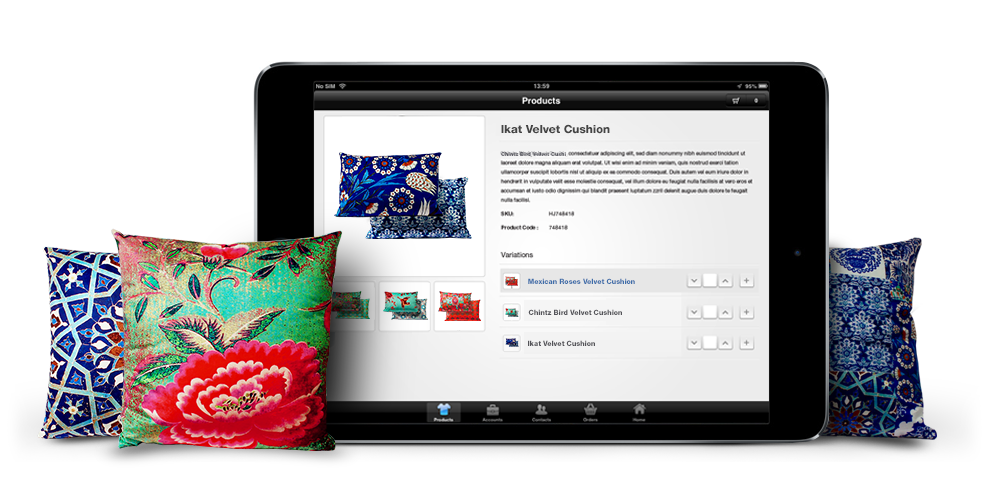 The solution - a time-saving electronic ordering system for daily use and for trade shows
Anna Chandler Design started using Onsight as a means to replace their outdated paper-based methods with the ultimate goal of streamlining and shortening the ordering process.
The inclusion of electronic ordering and an electronic product catalogue that is constantly being refreshed and updated without reprinting needed, has made a world of difference to the agents working for Anna Chandler Design. Complete information for each client as well as inventory quantities and up-to-date pricing is easily accessible via the app. The change means that placing orders has actually become a fun activity for agents instead of an admin nightmare.
The agents have found the web-based admin console an easy and convenient way to manage their customers. They are also very satisfied with the electronic copies they receive of each order placed. The fact that orders are now sent directly to head office when finalised, without the agents needing to send a fax, has helped increase shipping and delivery speed and has helped improved productivity. It also means that agents now have more valuable face-to-face time with customers .
An increase in customer satisfaction has also been seen by the Anna Chandler Design sales team. This is because customers can see the progress of their order as the agent goes through each step, and they also like being able to receive a copy of their order almost immediately via email.
Recently the team experienced another benefit of using the Onsight mobile sales app. Anna Chandler and her team took iPads to the Melbourne Homewares Trade Fair so that they could showcase their products to potential clients via the electronic catalogue and also capture orders directly at the trade show. At times there were two people simultaneously taking orders on iPads; something that, according to Ms. Chandler, increased sales and efficiency in comparison to previous trade show visits.
During the trade show they also had the opportunity to hand over the iPads to clients to let them browse the catalogue at their own pace with an agent on-hand to assist. Clients could also review completed orders and make last-minute changes to the order, if needed. This helped give clients more control over their order and a great deal of satisfaction in witnessing the process provided by the app.