The company - improving the lives of disadvantaged producers
Founded by four Canadian families, the fair trade organisation Level Ground Trading's main purpose is to improve the lives of disadvantaged producers through the use of trade. The company has taken small but deliberate steps since 1997 to achieve this goal.
Level Ground Trading provides a means through which producers from developing countries can get their products to a wider audience, and in turn help their families to enjoy a better quality of life than before. The products include coffee, cane sugar, dried fruits, vanilla beans, coconut oil, rice, tea and cacao nibs, and come from countries all over the world, including Bolivia, Colombia, India, Tanzania, Philippines and the Democratic Republic of Congo.
Level Ground Trading's work has provided many disadvantaged families with opportunities they may otherwise never have had. Workers are provided with fair wages to care for their families, healthcare benefits and professional technical assistance with various production techniques. Level Ground Trading has also provided scholarships through their Famicafe programme. So far six students have been able to attend high school and passed with flying colors, since moving on to attend universities and technical colleges to further their education even more.
Level Ground Trading has received numerous awards over the years, including a leadership award from Ethics in Action and an Eco Star Award for their waste management initiatives. In 2011 the company became an Organic Certified facility.
The requirement - improve efficiency and reduce carbon footprint
Level Ground Trading is a company that prides itself on keeping their carbon footprint as low as possible. They believe in never sending anything to the landfill, reclaiming empty packaging for upcycling projects, and paying their employees to ride bikes or use the bus or a carpool to work. Upholding these values is very important to the company, so there needed to be a way to grow productivity without losing what makes Level Ground Trading special in the first place.
Another important goal on the company's list was increased efficiency. How could they reduce the number of steps that sales representatives take when placing a client's order? How could they shorten the time it takes to place an order and get the order to head office without sacrificing clarity and conciseness?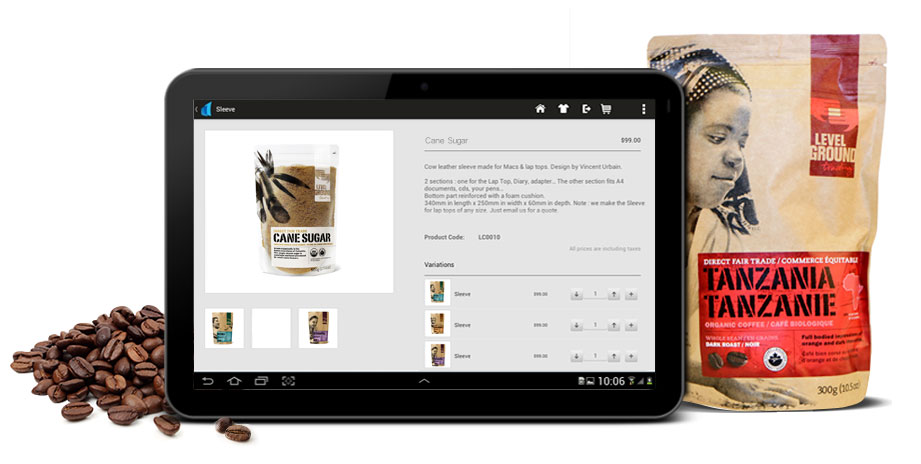 The solution - an electronic ordering system to reduce use of resources
Onsight's electronic ordering system was the solution to both of the above issues.
There are currently two representatives from Level Ground Trading servicing the lower mainland of British Columbia and Vancouver Island. In order to make travelling to and from the main office to these areas worth it, as many orders as possible need to be fulfilled.
With the Onsight electronic ordering system now in place, a step has been removed from the process which these two sales representatives go through: instead of writing down the order and then calling it in to the main office, it is now simply entered directly onto the app. The button to 'send' is pressed, and the admin staff at main office receives the order in the form of an email with all of the applicable details. This is immediately ready to be entered into the company's own customer management system. This process ensures that data-entry time is cut in half, and that the margin for error is as small as possible.
When it comes to Level Ground Trading's efforts to reduce their impact on the environment, electronic ordering via the Onsight app helps tremendously. There is no longer a need to use paper to write down orders or to use time and energy to call them in, since every order is placed on the app itself. Reducing errors in order-taking also means fewer resources needing to be spent on correcting any errors that may occur when they are given over the telephone.
Laurie Klassen, co-founder of the company says that "Onsight allows us to generate orders electonically that are easily entered into our own customer management system. Admin staff can view orders in a clear and concise way, which increases our sales staff's efficiency. The app eliminates a time-consuming step for our sales reps because they can enter orders directly onto the app whilst on the road. Onsight has cut our data entry time nearly in half."
View previous case study
View next case study