The goal - to provide up-to-date product and pricing data
The Illumis Lights website already had a detailed product database and online product selector tool. The company wanted a way to present pricing information to their various clients whilst still maintaining the confidentiality of channel and wholesale price agreements. They also wanted their distributors and agents to be able to access product and pricing information without having to be online and at their PCs. Lastly, Illumis Lights wanted to be able to quickly change product and pricing information and then communicate that to their agents, distributors and customers.
Each store that was sold to also had specific product needs that had to be catered to. Manually creating a product catalogue and price list for each store would be an impossible task. EAF Intertrade needed a solution that would make their product catalogues easy to update and easy to distribute.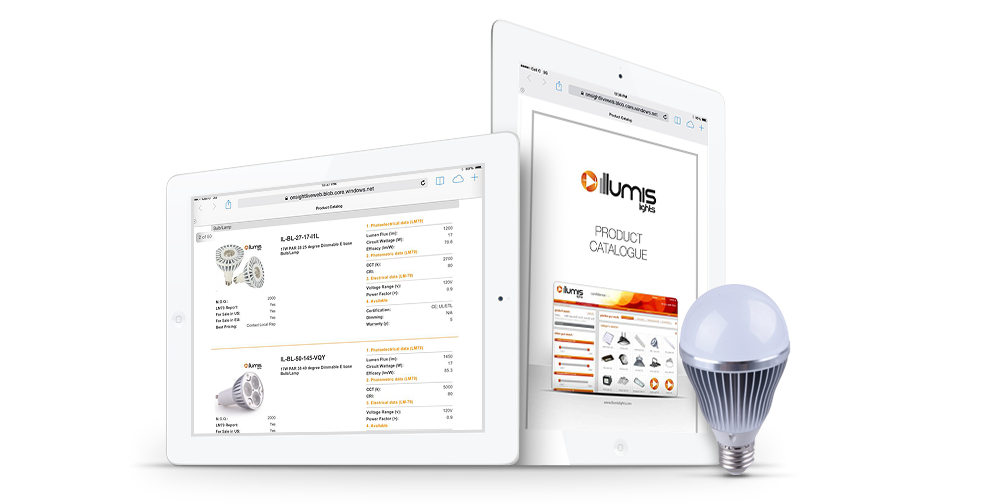 The solution - easy product updates and price list generator
Onsight has specifically created the Bulk Product Uploader feature for clients with a large product database that changes on a regular basis. By downloading a Microsoft Excel product data sheet, clients like Illumis Lights can add all of the relevant product information into one document (including images) and then import all of that information directly onto the Onsight system. All of the product information is ready for immediate use once imported.
As an initial solution, Illumis Lights is using the PDF Catalogue feature within Onsight to keep agents and distributors updated with product and pricing information. Product and pricing updates are done centrally by an administrator within Onsight. An up-to-date PDF catalogue and price list is then generated that can be shared with the agents and distributors by email. Since Illumis Lights operates in different countries, with differrent currencies and tax requirements, the Onsight team set up separate accounts within Onsight so that product and customer information could be segmented by country, with a unique catalogue generated for each one.
Ellis Maginn, Business Development Manager at Illumis Lights, explains why he chose the Onsight system: "We pride ourselves on promising exceptional value, attentive customer service and premium quality products. Onsight has provided us with the means to create high quality and accurate product catalogues to help us deliver on our promises. The Onsight system allows us to update product and pricing information and to generate a new catalogue with a single mouse click. The next planned phase is to have all agents, distributors and sales reps using the Onsight mobile app to access product and pricing information and to place orders."
In conclusion, the Onsight system has enabled Illumis Lights to update large amounts of product and pricing information easily. All the data can be downloaded as a high-quality PDF document to send to agents and distributors, ensuring that they always have the latest information at hand.
View previous case study
View next case study