The requirements - a large product inventory and custom product packs
Kimal's sales reps work closely with clinicians to create customized product packs, selected from their large inventory of medical components. Each new order is passed back to the main office for validation, pricing and in some cases sampling.
With thousands of products in their ever-growing inventory, it became necessary for Kimal to have a system that has the ability to upload and store large amounts of products. It needed to be easily accessible by sales reps and instantly customizable to suit the individual needs of each clinician.
Due to poor Wi-Fi connectivity at many hospitals, Kimal also required the system to be available offline. This would ensure that sales reps have uninterrupted access to vital product information at all times and the ability to generate all-import estimates and orders.
Additionally, for convenience's sake Kimal wanted the app to be fully integrated with their current web-based ERP system from Oracle to ensure information is always up to date and synced across devices.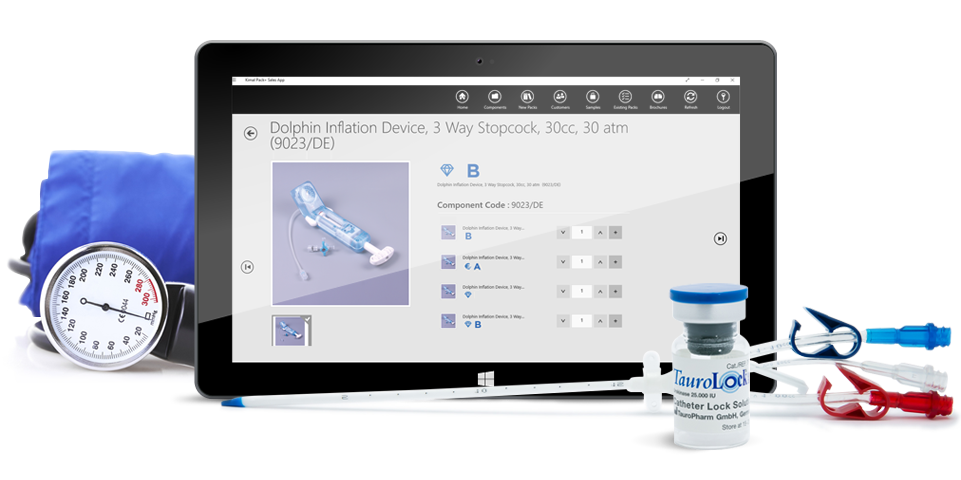 The solution - a branded app with feature-rich product catalogue
Due to Kimal's unique and varied medical customers, Onsight created a custom, branded app with a unique product catalogue specifically for them. The app can accommodate the creation of complex medical procedure packs based on the requirements of each individual clinician.
Sales reps can now create custom procedure packs according to customer specifications and save it for later reference. When an estimate is required, reps simply select the relevant product pack. Product packs can also be edited to ensure compliance with on-the-spot requests or changes. This ensures increased client satisfaction and flexibility on the part of sales reps.
Onsight created a custom electronic product catalogue for Kimal's large inventory that is now available both online and offline. The easy to use e-catalogue and app allow sales reps to instantly access relevant information wherever they are. Additionally, Onsight has created the newly-built app to integrate seamlessly with Kimal's ERP system to ensure that all product and product pack information stays up-to-date. Alongside this, the automated process saves reps preparation time and does away with manual catalogue updates and as such minimises errors.
View previous case study
View next case study