The requirement: customers can self-order and orders must go into Zoho
Clif LaPlante from Supply Partners was searching for a new B2B sales portal that would allow his pharmacy customers to place orders directly themselves. Whilst a few clients were using his existing B2B portal, the majority of his orders were coming in via email from customers. Supply Partners also provides branded items to pharmacy groups. A requirement for the sales portal was to only show branded items to pharmacies that belonged to that pharmacy group and to restrict those branded items from being shown to any other pharmacies. Lastly, the company had decided on Zoho for its accounting system and the new sales portal had to work with Zoho, a suite of cloud-based applications that is used by millions of businessess across the globe.
Clif recalls that many of the B2B sales services that he ended up evaluating fell short in terms of features. In addition, most of these B2B SaaS products did not integrate with Zoho at all.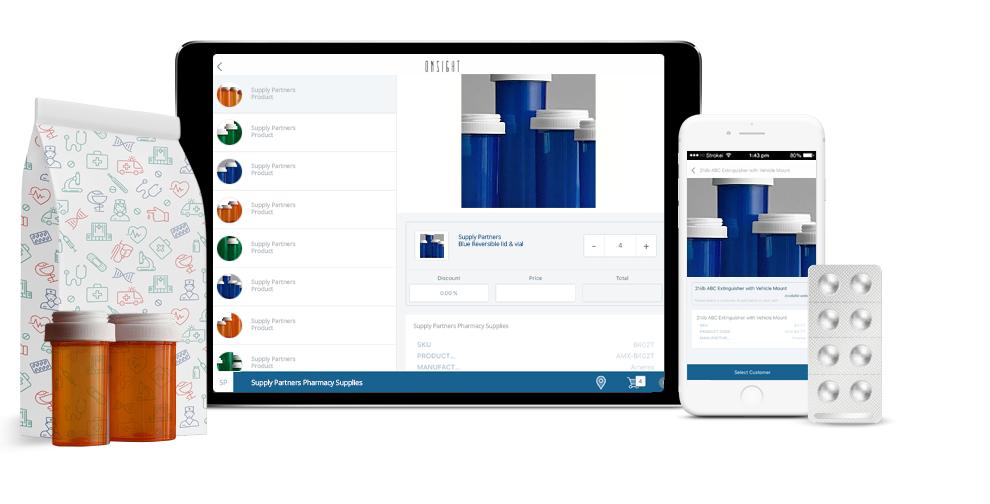 The solution - Onsight and Zoho Inventory
After finding Onsight and signing up for a 30 day trial, Clif implemented Onsight into his business and used it to replace his existing sales portal. Supply Partners also subscribed to Onsight's connector for Zoho Inventory to integrate the two systems. During the trial, as well as after, the Onsight team made numerous customisations to the Zoho integration to better suit Supply Partners' business process and requirements. Now Supply Partners' customers use the Onsight web portal to place their orders with the company and Clif is very satisfied with the results: "The sales website allows our customers to order whenever they want."
The Onsight connector for Zoho Inventory ensures that all the latest product information and images are pulled from Zoho into Onsight. Each pharmacy normally orders specific items. Supply Partners uses Onsight's customer product availability feature to ensure that pharmacies can only see their regularly purchased items. This makes for a quick order process when they need stock replenished. It also allows for their specific branded items to only appear to pharmacies within their group and no one else.
As orders are entered into Onsight by customers, they immediately get sent to Zoho Inventory. This has helped improve the order fulfilment process and according to Clif, "since Onsight is integrated with Zoho Inventory, it cuts down the amount of time it takes for our office to process the order."
View previous case study
View next case study