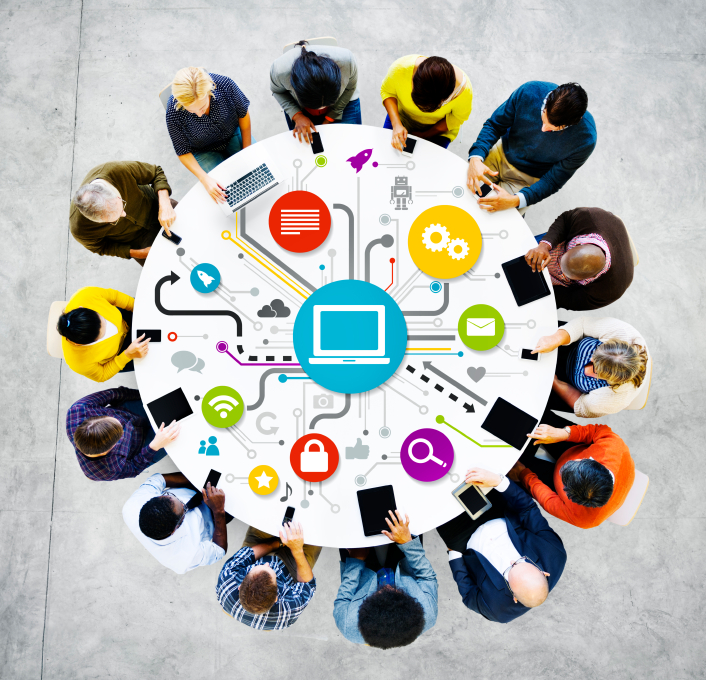 A social media presence for your business is no longer something that you can ignore or neglect. Think of the enormous number of people around the world that use social media on a daily basis (Facebook has billions of users), all hours of the day and night. There is a wide demographic range you can hit with social media – people of all ages, educational backgrounds, careers and household situations use social networks.
B2B companies should not feel that social media is not useful for them. On the contrary, B2B companies can just as effectively connect with the right kinds of people through social media channels as B2C companies are currently doing. All kinds of big and small companies have Facebook pages, Twitter accounts and LinkedIn profiles. Not to mention the employees of these companies. If you are present on the same kind of platforms as these entities and their people, it becomes easier to connect with people deep within the company on a more personal level. Remember, businessmen- and women also browse the Internet in their spare time and if you happen to be seen on the right platform and at the right time, you might be luring in a new client by simply having a presence.
As a company that regularly creates unique content to publish on the blog as well as shares the content of other like-minded companies and people, we know how important it is to keep track of the social networks being used. The last thing you want to do is have your social presence seem like a disorganised mess or not display your content and updates at the optimal times.
We recently came across a company by the name of StreamScience that can help B2B companies with managing these very important social media accounts and share content. The company helps content managers deliver the messages they want to the most appropriate audience for their product or service. We would like to share our experiences with StreamScience so that your company can also manage social media accounts as efficiently as it manages its employees.
Creating a StreamScience account is a simplistic process and you are fully set up within minutes of entering your details. You simply need to enter your name and email address as well as choose a password and voila!
StreamScience has a clean and uncluttered interface, something that is helpful when one needs to get a quick overview of the accounts being managed. The icons are clear enough to, at first glance; know what each of them does. There are plenty of guidelines along the way to keep you on the right track (for example, hovering over an icon displays its purpose).
When logging into your account, the layout takes you through an almost step-by-step process. The first step is to add the individual social media accounts you are going to be managing. StreamScience caters for Facebook, Google+, Twitter, LinkedIn, Instagram, Tumblr, App.net and AngelList users. You will be asked to give permission to StreamScience so that your accounts can be accessed. This may feel invasive no matter what service you use but if these are not present, the service cannot post on your behalf.
The accounts you add can be placed into labelled groups to make organising easier. You can select an entire group and have the same message sent to the multiple accounts without selecting each individual account. The StreamScience system can, if you want, automatically "guess" the group within which a new account belongs on your behalf.
These few steps already put you in a position to share your messages with the social media world. The messages you schedule and post can be in the form of text, a link or even an image. While we're on the subject of images, StreamScience offers editing capabilities without taking you away from the site – a big plus if you really want to save time and reduce tabs at the top of your browser. Any image you upload can be resized, cropped, enhanced and have effects added to it through the well-known image software Aviary. Placing beautiful images next to your content is a sure-fire way to capture audience attention and is a very important feature to look for in a service such as this. You can also add a location to any of your messages which is especially helpful for B2B companies focusing on reaching out more locally.
There are additional, in-depth features to help your messages get noticed quicker. A URL Builder helps messages to be seen more easily by Google Analytics' processes. This is done through adding the medium, source and so forth. A Hashtag Helper adds an appropriate hashtag to suit your message and there is a tracking system that creates a unique URL so you can see a detailed overview of who clicks on your links.
You cannot be online 24/7 to search for, create and share content. StreamScience has a feature that allows you to schedule messages ahead of time even if you are not online to send them. You can optimise engagement by limiting the number of posts per day, the time between posts and even select a default schedule that does all the thinking for you until you know what suits you best. Graphs show you what times you will be receiving the most engagement and then you can schedule messages according to this information.
Messages that have been placed in the queue can be delayed, rescheduled or cancelled even when it has already been placed in the queue. The number of messages you can queue is endless so the fact that you can simply drag them around is a plus. The system can shuffle your scheduled messages randomly which will give you different results and might lead to better engagement.
If you have many content collaborators, you can make your life much easier by arranging these collaborators. Create a company profile (of course, if you have more than one, you can create more) and then assign an admin role to people who have an account with StreamScience. You can also organise members into various teams based on what their role in the company is. You can have one for your marketing team, one for your sales team and so forth.
In the last couple of weeks StreamScience has added an RSS feed feature to aid with content curation. You add RSS feeds from your favourite websites to the system from where StreamScience will curate the most interesting and relevant content for you. An additional filtering feature sorts through the curated content based on popularity, recency, mentions of your brand or product or relevant keywords, so that you find the content that will matter most to your audience.
Seeing as StreamScience is still in Beta mode, it is understandable that there are some issues. When creating a new message it is difficult to get the hang of adding both text and a link into one message without losing one or the other. There aren't really any instructions in this regard so there is the need to play around with it a bit. Also, in the "Queues" section, you have the option of selecting certain days on which messages will be scheduled for publishing. However, if you select a day it doesn't highlight that box which makes it difficult to distinguish if the day has indeed been selected. This can easily make you confused as to what has been done and what has not.
Overall, the StreamScience system is solid and well-organised, despite one or two confusing elements that may cause hiccups when you start out. Creating an entry-level StreamScience account (a good choice for companies with less than five employees) is free. If you want to add more features there is a small monthly fee of $29.99 but it is minimal if you think about the time you will be saving.
Create an all-encompassing and active social media presence for your company will get you noticed by potential clients and their employees, as well as save time by keeping you organised. Planning out your social media strategy before starting on the content sharing journey will make it much easier for you to stay on track.
Give StreamScience a try and see if it works for your company's social media needs. Keeping up with the Joneses has never been easier!
StreamScience is offering ALL Onsight customers a special offer!
If you sign up for the StreamScience Professional Plan, you will receive a 33% discount on the original monthly price of £29.99. This will lower the Professional Plan price to only £19.99 per month!
Simply follow this link to make use of this exclusive offer.