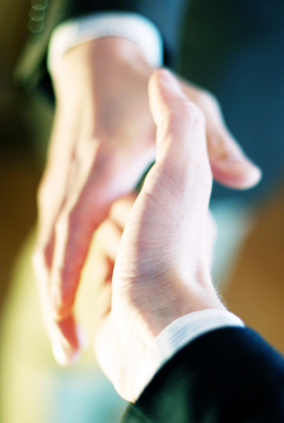 The best advertising you can get for your company is word-of-mouth. This means someone appreciated your product and/or customer service so much that they took the time to tell someone else. This has an effect on someone's reputation if it turns out to be a different experience for the referee and if it can raise their profile in the eyes of someone else. A referral means that someone trusts you. So, with that being said, how can you get referrals from current clients (other than providing great products and excellent customer service)?
A good referral system or process can help you to get more referrals. If you provide an easy means for people with which to provide a statement that you are a good company to work with, it is more likely that they will do so. Minimal effort should be required from their side so that it does not feel like a chore. Let's take a look at some ways you can get a referral system going.
A cheap way to put the idea of a referral into someone's mind is to simply add the words "Referrals appreciated" to your email signature. It is non-intrusive and will get the ball rolling. Something in the same vein as this is to place a short blurb in your newsletter with an explanation of what your ideal referral would be.
Don't only think of referrals as word-of-mouth, case studies or testimonials. Social media sharing is a great way for a person to show that they value you, and it costs them no money and very little time. Add to your newsletters (no matter what method you use) that you would like people to share the newsletter with their networks. Then add Facebook, Twitter, LinkedIn or other site links to encourage this type of sharing. Remember, that adding those links are not enough, you need great content that they would want to share.
Treat people you do business with as partners. A good way to encourage this idea is to create an affiliate program. If someone you have done business with brings in some form of business through their own efforts, whether it is an enquiry or an actual new client, provide them with rewards for putting in a good word no matter what the result. This is what one calls performance-based marketing.
Provide links on your website to a form that current clients can fill in that serves as a referral that you can display. Give this type of link after you have successfully completed deals with a client. This way they give permission to use the referral or good word by the mere fact that they took the time to fill in the form. Also, they can have a say in what they portray to the outside world with little to no influence from you. This makes them feel like you trust them and your service enough to allow them to do this.
Be helpful towards others. If you are active on social media networks, you will get noticed if you provide advice and assistance to others who need it without even being asked to do so. This will allow people to see that you have the expertise to provide advice as well as take notice of the business that you are involved with. You will get more people who talk to you via other people that have noticed your active involvement. These may not be people you have done business with but these actions have the potential to bring in new clients.
The last, best way to get a referral is to provide a referral. It is true that you give what you get! Once you have a good referral system going as well as many people who refer others to you, you have another avenue to explore. You can tell new clients of the fact that you, for example, 80% of your clientele comes from referrals by current clients. This inspires confidence since your business comes from repeat customers, meaning your products and services are good enough for people to proclaim their loyalty to you.