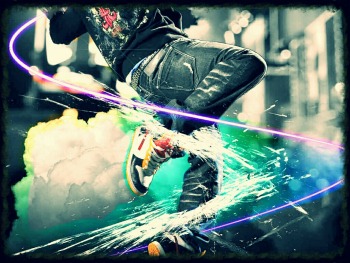 A great image editor can be useful for anyone no matter if you use images to create great-looking presentations, images for your company's blog posts or eye-popping mobile product catalogue images. There are even more online image editors available than you may have noticed so take a look at the ones gaining the most popularity.
Sumopaint
Sumopaint can be best described as a online version of Microsoft Paint. You can either upload an image or edit a blank canvas. If you are using the basic editor from Sumopaint you will get tools like gradients, shaping, smudge, symmetry and text. You can also create layers, the same way you do when using Adobe Photoshop.
You can use the desktop app for free but it only has the very basic tools available. For a fee you get ad-free image editing, pro filters and the use of the desktop app even when you are offline. Another feature that they have added is the translation of their desktop app in 22 languages, which makes it easier to understand each tool when your mother tongue is not English.
Pixlr
Pixlr is one of the best online image editors on the market. Part of its appeal is the fact that all of its features are free to use. And there are many features to choose from. These include an advanced editor for expert editing, an express editor for basic and quick jobs and the Pixlr-o-matic that is more geared towards giving you silly features for fun.
Pixlr also has apps for your mobile so you can edit on-the-go and these are available for both Android and iOS users. There is also the screen grabber feature where you can click on a website image and it takes it directly to the editor for use. Pixlr also has a strong community of photo editing enthusiasts. People can participate in online competitions for the best image manipulation and share their favourite pictures with other fans of the application.
Photoshop.com
This site has been created by Adobe to make their great image editing tools available to people that cannot afford the Adobe creative suite. Their online tools allows you to upload an image from your computer to edit. Take note that so far only JPG images can be edited on this site
The features of Adobe's Express Editor include cropping, rotating, red-eye reduction, blemish touch-up and saturation tools. Other tools include image pixelation, colour popping (brings out a particular colour in the image), tint, black-and-white, distortion, sketch, blur, dodge and more.
You can also decorate your images with graphics such as frames, text, animals, stickers and speech bubbles. It is a very basic tool to use in comparison with Adobe's other creative programs but the image quality it produces is on the same level.
To access their Express Editor, go to the online tools menu and it will guide you to the correct page.
Aviary
Aviary has an extensive catalog of platforms on which you can edit images. These platforms include Android, iOS, Windows Phone 7, Windows 8 and HTML5. You need to sign up for an account to be able to use the various apps. If you have the skills to use APIs you can add this image editor to your existing app.
When it comes to the basic apps, you have a wide variety of quality effects and tools to make use of and additional tools like vintage effects, stickers and frames can be downloaded for free or for a small fee. Some of the app tools included are stickers, cropping, contrast, saturation, sharpness, frames, effects, enhancement, drawing, blemish removal and so more.
One of the drawbacks is where you get your images from. Often there is the option of uploading pictures from your computer or device but with this app you need to specify which folders images will be drawn from instead of uploading specific images. The upside is you have immediate access to your gallery (of the folders you have selected) when you open up the app. You can also edit photos taken by your camera.
PicMonkey
This is one of the easiest image editors to come by as there is no text to go through beforehand, no sign-ups and no downloads. You simply open the website, upload your image and off you go.
PicMonkey is a very fun editor with specific sections for creating holiday specific images (such as for Halloween or Christmas). It is also great for creating collages with many different images, layouts, swatches and backgrounds. You have the usual filters and effects you can add as well as cropping, rotating, resizing and enhancing. Along with these you get image retouching tools such as red-eye correction, fake tan, blush, blemish remover and more which is especially helpful for images of people. Don't forget all of the stickers, tags, overlays and texts that you can add. Their wide variety of fonts are especially great.
There is a paid "Royale" option that gives you access to many more features such as filters and overlays as well as removing ads. But, to be honest, the ads in the free version are so small and inconspicuous that they do not bother you. Also, the features you already have in the free version are already great so the Royale version will simply give you more options to choose from.
Need to know how to create beautiful images before you start the editing process? Take a look at our previous article on creating good mobile product catalogue images.