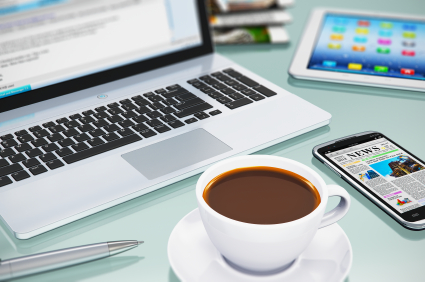 Your company will experience many benefits to implementing enterprise mobility for your workforce. Even the smallest change that ripples through your business will, in turn, make a big impact in the future.
An obvious and visible benefit would be less paperwork to deal with. Not only is paperwork costly, it takes up space that could be used more effectively and it is ultimately time-consuming to maintain. All information you handle on a daily basis can be centralized with the use of mobile devices and applications. This centralization of data helps to keep a level of organization and ease of access for all employees involved with the handling of the data.
Costs will decrease and revenues might go up due to the above-mentioned reduced paperwork as well as your employees' increased productivity and a more responsive customer service ability. Through applying enterprise mobility, you and your employees will be able to address queries as they occur, have real-time interactions and make decisions faster. Faster decision-making and quicker responses will no doubt increase overall customer satisfaction.
Due to business processes being automated and mobilized, operational costs will decrease and management's focus can shift to tasks of higher value, such as customer retention and acquisition. Your employees will also be given a greater amount of power over the work that they do and they will be made more accountable for their workload.
Enterprise mobility's implementation is a process that will affect the entire company. The benefits that enterprise mobility can offer do not only flow to your business but also on to your employees. They'll find their work lives easier. They'll have less admin overhead. They'll have less stress trying to do things using paper processes. That which is good for your employees will also be good for business.
Your employees will be able to maintain a flexible work schedule that allows them to juggle their personal lives more effectively with their work lives. For those employees that like to travel, enterprise mobility will allow them to do so easily while still maintaining deadlines.
Some workers are more productive when they have the opportunity to work from home as they are better able to manage their work environment. Noise distractions can be eliminated by choosing to move to a quieter area while still maintaining connectedness. The fact that Wi-Fi is now available at many public locations closes the gap between onsite and offsite even more as no employee ever needs to wonder about being able to connect with the office while on a trip or with a client.
All of these benefits for your employees do place a greater responsibility on their shoulders yet it alleviates a lot of supervisory work that needs to be done on a daily basis. Time spent on tracking employees can now be used to focus solely on the business side of things.
Enterprise mobility is the future of the workplace. It allows companies not only to do business but to do it well and more efficiently. Despite the costs associated with bringing in new technologies these are short-term costs that will allow you to reap long-term benefits.