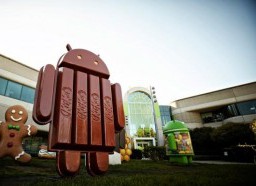 'Tis the season for updates! Both Microsoft's Windows 8.1 and Apple's iOS 7 was released in October and now Android 4.4 KitKat's release was announced on the 1st of November. Unfortunately, for Android fans it seems that you need a Google Nexus 5 to be able to get your hands on it. The release for other devices is coming soon. Let's take a look at what new features this sweet update brings.
When it comes to interface, there has not been many changes made. The interface, however, is more simplified and cleaner. The shortcuts on the home screen are no longer separated by a line from the rest of the screen. The apps/widgets tab has disappeared but they can be accessed by simply tapping and holding in anywhere on a screen. App icons have a rounder look and seem more cartoonish in nature (as opposed to Apple's skeuomorphic or more life-like icons). The basic navigation has not really changed which means existing Android users will be comfortable. New users will find navigation easy and simple so it will be an easy transition.
What's significant about this Android update is the fact that Google products are taking centre stage. Google products like Drive (a cloud storage system) and Hangouts (a messaging app) are more prominent and kind of nudge you into using them more frequently instead of third-party apps. Other Google products that are pre-installed include Keep which aims to keep apps like Evernote from intruding on their territory.
A great addition to this operating system update is the inclusion of QuickOffice, an document-editing app to rival the popular Microsoft Office series. QuickOffice was acquired by Google quite a while ago but have only now made its appearance. It is a great app for creating and editing documents on-the-go and, of course, storage of these documents in Google Drive is encouraged by means of 15GB of free storage.
Google's pre-installed apps may seem intrusive at times. The caller ID is one of Google's products as well and as soon as you dial a number that is unknown or that you don't have in your contacts already, it automatically searches for it on the Web. Google Now (the rival to Apple's more advanced Siri application) is another app making a bigger appearance. When you enter Google Now, it shows you "cards" with items that are relevant to your location (hence the opinion that it is intrusive). Some of these items include the weather, traffic information, restaurants in your area and so forth. It can be useful though if you don't mind the Big Brother effect.
With Internet browsing, searching still takes you to the Web browser instead of directly in the Google Now feature. But there is an update on its way for this to come into effect. There is also a helpful printing feature that enables you to send documents for printing to any WiFi-enabled printers (even though these are a bit scarce still). An app called Tap and Pay has been added, a system for NFC wireless payments, but it is quite useless in countries outside of the US.
To those who have been keeping up-to-date with all of the news surrounding Google Glass, you will find a the term "OK Google" very familiar (except with Google Glass you say "OK Glass"). Saying this while in the home screen (now only available for Nexus 5) or in Google Now activates things like sending a text, getting directions or playing a song. Even though some who already have the update have said that it is not working or not as effective.
Immersive mode is another of the features that Android has added to this update. Whenever you are watching a movie or playing a song, the user interface is removed so that you only see the application. Then you only swipe the edge of the screen to bring back the navigation buttons and status bar. Google Keyboard, the pre-installed keyboard app, also brings the user Emoji, colourful Japanese emotive characters for texting.
Other features that Android brings to the table include a built-in pedometer for the fitness-conscious of you out there, a feature that allows you to search a movie or song from your lock screen, Chromecast so that you can view online movies and music on your TV and many more.
Android's latest update has proven to be an all-round winner for most people and certainly gives Apple a run for their money. Even though some changes are subtle, it seems the aim to improve user functionality and experience was achieved through less clutter and more integration.