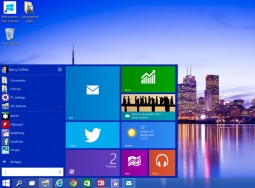 July 2015 saw the consumer release of Microsoft's much-anticipated Windows 10. It is described as an operating system as a service that has ongoing updates to features and functionality similar to a mobile app. Since its release Windows 10 has received overwhelmingly positive reviews and critics are glad to see the return of the much-loved Start button.
Windows 10 is currently installed on more than 10 million devices, and we thought we'd take a look at some of the interesting features to be found on this new operating system:
Activating Cortana
The intuitive personal assistant, Cortana, is now available to use on your PC. To activate and be able to speak to Cortana, click on the search field in the Taskbar. Then select the Notebook icon that appears in the left-hand side pane and then select Settings. Enable the "Let Cortana respond when you say 'Hey Cortana'" option.
Cortana's effectiveness is determined by how much the system knows about you. Of course, not everyone is stoked to just put their personal data out there. To stop Cortana from collecting your personal information as you work, launch the Settings app. Go to the Privacy tab and then to "Speech, inking & typing". Now, simply click on "Stop getting to know me". You will no longer receive personalised recommendations.
Now that Cortana doesn't collect personal information any more, you can take this even further by removing previously collected information. Visit the Bing Settings page here: https://www.bing.com/account/personalization (this link only works for current Windows 10 users). Make sure you are on the correct account. Click on the Clear button in both the "Clear personal info" and "Other Cortana Data and Personalised Speech, Inking and Typing" sections, and confirm that you want to delete in both cases.
Customizing the Start menu
When you open the Start menu in Windows 10, you will see live tiles on the right side. It usually includes things like Weather, Calendar, Mail, Photos, and the Edge browser. You can easily customise these tiles in a way that is more suited to you.
If you want to add tiles, click on the Start menu and then select "All apps". Look for the app you want to add, right-click on it, and select "Pin to Start".
Want to remove a tile you don't see yourself using? Simply right-click on the unwanted tile and select "Unpin from Start".
You can also resize the tiles. The right-click menu has a resizing option. There are four different sizes: small, medium (the default size), large, and wide (twice as wide as a regular tile).
You can simply drag and drop the tiles already on the Start menu to rearrange them in a manner that you like.
Drawing on Edge
The Edge browser is what replaced Internet Explorer and is included in the Windows 10 operating system.
The new browser has a lot of cool features. One of them is the ability to draw or write directly on a web page. Click on the "Make a Web Note" button featured in the top bar. It is represented by a pen-and-paper icon. You can start taking notes when the drawing toolbar (with its distinctive purple background) appears.
Some drawing tools include a pen, highlighter, eraser, typed note and clipper tool. There are also different brush sizes and colours to choose from. Once you've finished taking notes or drawing you can save your creation to one of three places: your OneNote account, Office Online (for those not using the Windows OS) or Favourites/Reading List folder.
Streaming Xbox games
If you're lucky enough to own an Xbox One, you'll be able to stream games with the Windows 10 OS. This means you can play your Xbox One games on your PC as long as it has access to your home network.
To activate this feature you need an Xbox One console with an Xbox Live account, a Windows 10 PC, and network connectivity. Microsoft wrote this helpful tutorial about the six steps you need to follow to enable streaming: http://news.xbox.com/2015/07/29/windows-how-to-stream-games-from-your-xbox-one-to-your-windows-10-pc-or-tablet/.
However, one of the disadvantages of this cool feature is that you won't be able to use the Xbox One console while someone is streaming a game.
Accessing the original Control Panel
Settings has replaced the original Control Panel with great success, but sometimes you need to access deeper options like computer management, programs, task manager, network connections and more. To find the Control Panel, right-click on the Start menu and select it from the pop-up. Alternatively, search "Control Panel" in the search bar that you'll find on the bottom left of the Taskbar.
Recording your games or apps
Windows 10 has a new Game DVR feature. This means you can record the action occurring on-screen while you play a game. However, this feature is not only for those who want to showcase gameplay, but also to record yourself working on an open app or desktop software. Note, it won't work for things like your Desktop or File Explorer.
To activate Game DVR, press the Windows key + G simultaneously. It will ask you whether you want to open the Game bar. Reply affirmatively when asked whether this is a game box. To start recording a video click on the circular "Record" button. To view your videos go to the Game DVR section in the Xbox app or the user folder in Video > Captures.
Going offline with Maps
Click on the Start button and then on Maps. Now click on Settings (the icon looks like a gear) in the lower left corner and go to "Offline maps". Another screen will open. Click on "Download maps" on the left-side screen. Then select the continent and country which you want to download. Remember to check whether new map updates come in periodically.
Customising the Taskbar colour
Open the Start menu (bottom left corner of screen) and click on Settings. Click on "Personalisation" and then "Colours". You can have the system pick an accent colour for your Taskbar based on your background, or choose your own accent colour.