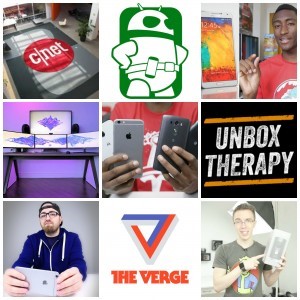 YouTube channels about technology and tech gadgets have grown tremendously in popularity with millions of people watching and subscribing every day. Here are some of the best YouTube tech-related channels for getting your daily tech fix or for helping you to research your next tech purchase:
1. Unbox Therapy – 17.9 million subscribers
(https://www.youtube.com/user/unboxtherapy)
One of the most popular YouTube tech channels is Unbox Therapy with 17.9 million subscribers. The presenter, Lewis Hilsenteger, is knowledgeable and passionate about what he does. So what does he do? As the name suggests, videos are generally centred around the unboxing of consumer electronics ranging from PCs and smartphones to peripherals and consoles. The items are taken out of the packaging on-camera and reviewed based on first impressions. Apart from unboxing, Lewis discusses specs, tackles DIY projects, and announces limited tech deals and products. Lewis reviews products both niche and mainstream. The videos are informative and cut straight to the point.
2. Marques Brownlee – 13.8 million subscribers
(https://www.youtube.com/user/marquesbrownlee)
Also known as MKBHD, Marques Brownlee boasts 13.8 million subscribers on his tech channel where he reviews the latest gadgets. At only 21 years old, Marques was named "one of the best technology reviewers on the planet right now" by a Google VP and gained a strong standing on YouTube. His videos are sprinkled with Marques' humour adding a charming personality to what is already very detailed and intelligent content. The channel also includes easy to digest Top 5 lists and Q&As. Occasionally, he'll include a few comedic skits centred around current technology and news.
3. LinusTechTips – 13.3 million subscribers
(https://www.youtube.com/user/LinusTechTips)
LinusTechTips is the main channel owned by Linus Gabriel Sebastien along with several others. The channel sports 13.2 million subscribers. They started off as a product-reviewing channel for a now-defunct computer store but the channel has since grown into its own thing. The channel has a few different presenters now and features electronics reviews, DIY PC building, and (as the name suggests) tips that you can use to improve your tech life. The channel is very informal and leans towards enjoyment rather than straight-cut reviews.
4. MrWhoseTheBoss – 6.9 million subscribers
(https://www.youtube.com/user/Mrwhosetheboss)
Arun Maini runs the biggest tech channel in the UK with MrWhoseTheBoss having over 6.8 million subscribers. Huffington Post, The Daily Telegraph, and Business Insider have all praised Arun for his contributions to YouTube's tech content. The videos mainly include reviews and comparisons of smartphones. The camerawork is great, and the channel's set-up feels professional except for obviously humorous sections. And this all comes from a man who studied economics but who has an obvious passion for tech.
5. Austin Evans – 4.9 million subscribers
(https://www.youtube.com/user/duncan33303)
Many people have compared Austin Evans with fellow YouTuber Marques Brownlee (mentioned above). They are both very good at what they do. If you want honest information about the latest tech with none of the useless filler that some YouTubers tend to add in, then Austin is your guy. Aside from the usual reviews, Austin's most viewed videos appear to be gaming related, like how to build a gaming PC. So, if you are a gamer check out his channel.
6. Android Authority – 3.3 million subscribers
(https://www.youtube.com/user/AndroidAuthority)
Originally stemming from the Android Authority website, the Android Authority YouTube channel has cemented themselves as a gold-mine of Android info for their 3.3 million subscribers. The website includes articles, troubleshooting, and discussions of all things Android-related. The YouTube channel will sport reviews of the latest Android devices, guides, Android app reviews and weekly roundups. There are a variety of presenters and reviewers so if you're interested in Android, there's bound to be something that you will enjoy here.
7. The Verge – 3.1 million subscribers
(https://www.youtube.com/user/TheVerge)
The Verge is a popular tech website that has built up a YouTube counterpart sporting over 3 million subscribers. They have reviews on the latest tech gadgets and products and have videos to prove what products claim to do. The Verge includes more than just consumer electronics and has videos on space travel, latest technological experiments, and aeroplanes as well as other topics. For your daily intake, "90 seconds of The Verge" is there to satisfy your curiosities. Whether it's documentaries or interviews, or hoverboards or video games, The Verge has you covered.
8. CNET – 3.0 million subscribers
(https://www.youtube.com/user/CNETTV)
CNET has established itself as more than just a consumer electronics review channel with 3 million subscribers. The videos have a wide range of topics and you're bound to find something interesting. CNET started out as a website and then created this popular YouTube channel. All sorts of content available such as podcasts, interviews, reviews, news, and much more. The channel includes easy-to-understand content but can also go deeper and explain the science behind the technology currently being developed. CNET also has videos that lie outside the tech sphere.
9. UrAvgConsumer – 3.0 million subscribers
(https://www.youtube.com/user/UrAvgConsumer)
Judner Aura is a self-proclaimed "average guy who loves tech" who reviews simple gadgets, smartphones, PCs and peripherals. The channel has amassed over 3 million subscribers thanks to his honest opinions and "average consumer" takes on things. Videos such as "Tech you can ACTUALLY afford" lends to Judner's "average guy" persona. A big theme in his videos is tech that is useful but also relatively cheap and affordable to most consumers.
10. Google Tech Talks – 300,000 subscribers
(https://www.youtube.com/user/GoogleTechTalks)
Apart from owning YouTube, Google also has their own YouTube channel called Google Tech Talks. This channel is somewhat different and goes deeper into the tech and science industry than the other channels that we have mentioned above. Let's just say that they follow a more philosophical approach. If you are someone working in the tech industry, or you just have an interest in technology and you want to hear about the latest research then this is the place to do that.