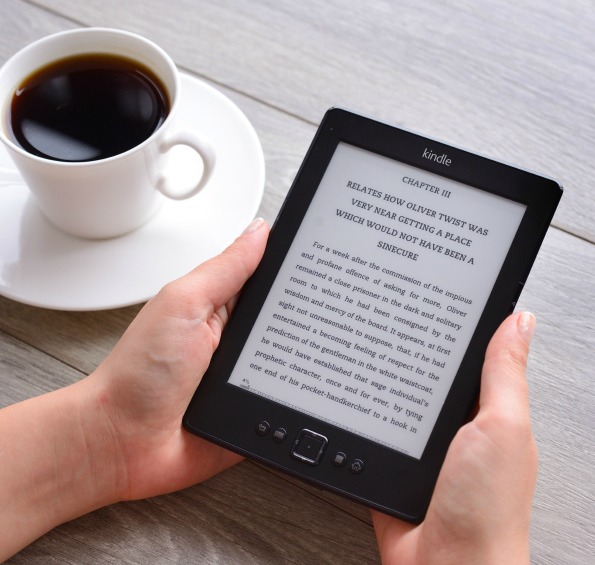 To achieve success in any industry, you need to further your knowledge continuously and be up to scratch on the latest techniques and processes. This also applies to sales reps and sales managers in particular. Even if you're busy, taking the time to read can mean the difference between success and mediocrity.
We've gathered the top 14 sales books you can read today to elevate your sales and overall productivity. Remember, if you really don't have time to sit down and read, play an audio version in your car in between sales meetings or on the way to the office. Alternatively, get the e-book for easy access to your sales library on the go – there really are no excuses for not reading.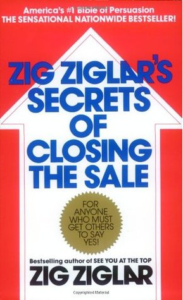 Secrets of Closing The Sale
by Zig Ziglar
(Publisher: Berkley, 1982)

Search for sales books on Google and you're almost guaranteed to come across one of Zig Ziglar's books. Secrets of Closing The Sale focuses on an important sales principle that holds today: Build a strong relationship with prospects. Ziglar's guides will prepare sales reps to face clients with enthusiasm and confidence, ready to overcome any reason people may be hesitant to buy. The book is easy to follow and it includes real life illustrations along with over 700 sales questions that will come in handy at any part of the sales process.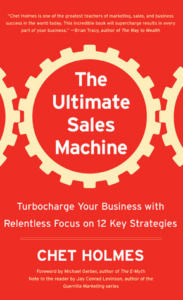 Ultimate Sales Machine: Turbocharge Your Business with Relentless Focus on 12 Key Strategies
by Chet Holmes
(Publisher: Portfolio, 2007)

Chet Holmes's book provides strategies on how you can to improve your sales, management, and marketing skills by just spending an hour a week on each area you wish to improve in. A salesperson not only needs to identify fruitful opportunities and strategies but also get rid of ones that don't work. Holmes lays out what is important in sales and what may not be worth the time. He details 12 critical areas that one should look to when working on skills as a guiding principle.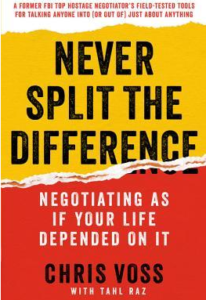 Never Split The Difference
by Chris Voss
(Publisher: Harper Business, 2016)

Written by former FBI hostage negotiator, Chris Voss, Never Split The Difference outlines 9 principles of effective negotiation that can be helpful to readers from all backgrounds. A sales rep wishing to improve their persuasion skills can greatly benefit from the unique take on human interaction that Voss has. Readers can also definitely improve their sales skills in stressful negotiations with high stakes.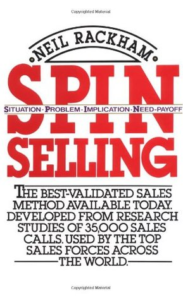 SPIN Selling
by Neil Rackham
(Publisher: McGraw Hill Professional, 1988)

SPIN Selling details the SPIN (Situation, Problem, Implication, Need-payoff) strategy that enables sales reps to increase their sales pipeline especially within the high-value sales environment. Rackham's book is packed with real-life illustrations and case studies and backed by hard research. Sales reps selling high-value products and services won't regret picking this book up.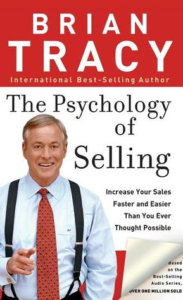 The Psychology of Selling: Increase Your Sales Easier and Faster Than You Ever Thought Possible
by Brian Tracy
(Publisher: Thomas Nelson, 2006.)

Brian Tracy is a sales guru that trains and develops individuals and organisations while producing audio and video learning programs. He also gives talks and seminars on a regular basis. His book, The Psychology of Selling, provides techniques, methods and strategies that has been proven to double, and even triple, how much sales individuals make. This book is all about getting the maximum results in the minimum amount of time.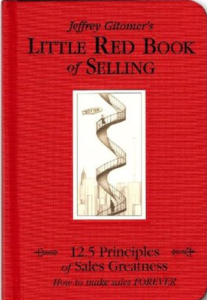 Little Red Book of Selling: 12.5 Principles of Sales Greatness
by Jeffrey Gitomer
(Publisher: Bard Press, 2004.)

This book focuses on the "why" behind people's buying habits and how unravelling principles can seem complicated at times. There's a reason this book is described as little. The advice given is short and to-the-point to accommodate sales reps and managers who have a lot to do but still need to advance their sales knowledge. The Little Red Book of Selling is filled with cartoons and bite-sized pieces of advice to provide quick reference in times when inspiration is needed.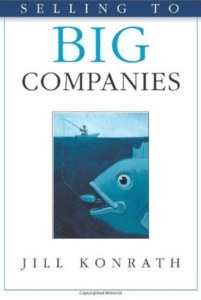 Selling to Big Companies
by Jill Konrath
(Publisher: Kaplan Publishing, 2005.)

B2B sales reps are all too familiar with the complicated process involved in getting to the heart of decision-making within large companies. Selling to Big Companies wades through all the red tape and provides modern strategies for cracking the code of B2B sales. This book provides advice as to how to shorten your sales cycle and also the best way of talking to corporates.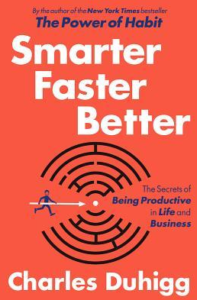 Smarter, Faster, Better: The Secrets of Being Productive in Life and Business
by Charles Duhigg
(Publisher: Random House, 2016.)

Charles Duhigg is best-known for his best-selling book, The Power of Habit (which is also a great book for anyone to read). This time around Duhigg delves into the science of productivity and how people should start focusing on how they think versus what they think. Some subjects covered include goal setting, motivation, and decision-making, which are all essential skills to have for those in sales. This book is very easy to read and draws examples from real-life experiences of people in high-stress jobs such as CEOs, aeroplane pilots and FBI agents to get the message across.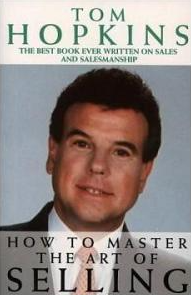 How to Master the Art of Selling
by Tom Hopkins
(Publisher: Grand Central Publishing, revised and updated version 2005.)

Tom Hopkins' personal experience in the sales world inspired the writing of this classic book. Hopkins saw six months of sales failure before deciding to completely turn his career around. He ended up earning millions within three years and through his book now shares his secrets to success. How to Master the Art of Selling originally came out in 1988 but has now been reworked to suit the modern world. He provides the latest research techniques as well as how to use online resources to do sales quickly and efficiently.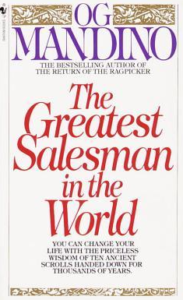 The Greatest Salesman in the World
by Og Mandino
(Publisher: Bantam, 54th edition, 1983.)

This book, now in its 54th printing edition, is an essential addition to any salesperson's library. When it was released in 1968 it was a runaway success despite its small size. Og Mandino looks to philosophy and ancient writings to provide sales principles and techniques that stand the test of time even today. This book serves to inspire your internal motivation and self-belief in order to become successful in sales.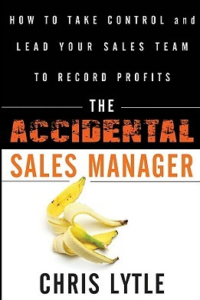 The Accidental Sales Manager: How to Take Control and Lead Your Sales Team to Record Profits
by Chris Lytle
(Publisher: Wiley, 2011.)

Being a great sales manager means becoming a developer of salespeople instead of simply putting out fires. In turn, well-developed salespeople will create their own success which is your success as well. If you're feeling less than confident about your role as sales manager then this is the book for you. The Accidental Sales Manager will teach you how to coach salespeople who manage themselves, and bring out the expert in you as you transition from sales rep to manager. The book covers everything from recruitment, sales meetings, roadblocks, and people management.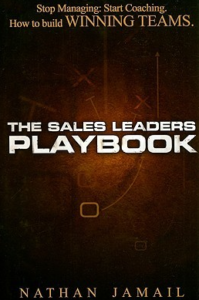 The Sales Leaders Playbook: Stop Managing, Start Coaching
by Nathan Jamail
(Publisher: Scooter Publishing Inc., 2008.)

Nathan Jamail uses his extensive experience in sales to provide a guidebook that is essential for sales reps and managers alike. This book promises to take their knowledge and turn it into valuable skills that can be applied in real-world situations. In The Sales Leaders Playbook you will find techniques and best practices for creating an organisational belief system, increasing team morale, improving sales abilities, communication, and increasing sales.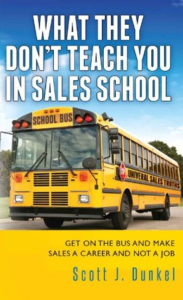 What They Don't Teach You in Sales School
by Scott J. Dunkel
(Publisher: CreateSpace Independent Publishing Platform, 2013.)

With 30 years of success in technology sales, Scott Dunkel provides advice for any person interested in making it big in professional sales. The book provides interviews with sales executives, high-level decision-makers and sales managers to find out their trade secrets. Well-known sales principles are presented and backed up with real-life sales stories, which makes it easier to understand and apply when it comes down to brass tacks. If you want to turn your sales job into a career this is the book for you.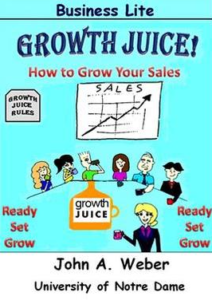 Growth Juice: How to Grow Your Sales
by Dr. John A. Weber
(Publisher: John A. Weber, 2013.)

Short, concise chapters and fun cartoons make this book an easy read. The focus here is on solution-selling and using common sense to grow both sales and profits. In Growth Juice you will also find tried-and-true concepts, frameworks, and practical planning for organisations to implement. In keeping with modern times, this book also covers social media as a great additional tool to further increase sales.