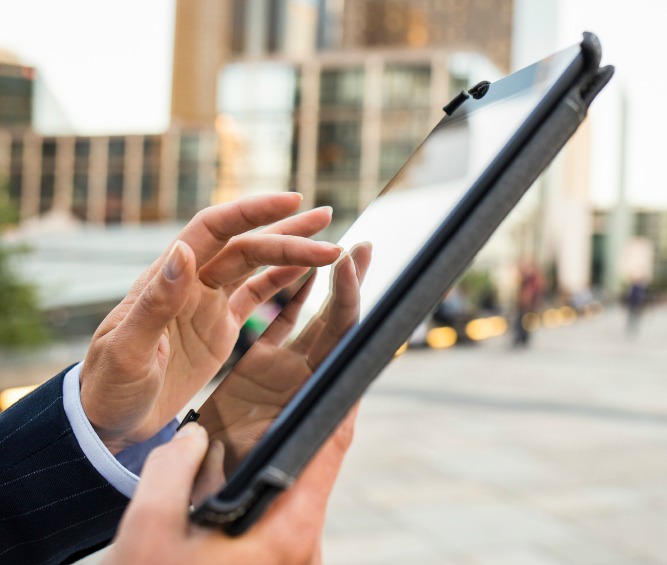 There are a multitude of apps for sales reps to use to improve their productivity and to make their lives easier. Our own Onsight sales rep app lets sales reps show products to customers, generate quotes and capture orders even when offline. Click here to learn more.
Here are five other apps worth downloading:
Connect with and track leads: LinkedIn Sales Navigator
The foremost business-orientated social network LinkedIn has become an essential tool for gaining business opportunities and connecting with like-minded individuals. This successful website has now launched their very own mobile app for iPhone and Android called Sales Navigator.
The app is essential for those trying to get into social selling. In between meetings you can send InMail to decision-makers (even those outside your network), check profiles and connections before entering a meeting, and get updates on important accounts and sales leads. Also, you can save any new leads you have immediately and don't have to wait until you get back to the office.
To get the Sales Navigator mobile app you must have an existing LinkedIn Sales Navigator account. This account is very helpful as it has a built-in algorithm that gives timely and appropriate lead recommendations.
Stay up-to-date: Trello
If you are part of a busy sales team or managing one then it can be hard to find time to catch up. Trello is the perfect way for organising projects, tracking sales cycles and getting real-time updates on these. Parts of projects are organised using cards that are placed within lists. For example, you can organise lists according to "still to do", "done" and "being done". Cards can be added within each of these lists based on their relevance, and later moved when their status changes.
All of these lists and cards can be viewed by everyone on the sales team, since you can invite as many people as you want to view the board. This makes it easier to know what other people are busy with, which meetings they are attending, which leads they have been in contact with, and so forth. Invitees can also add their own comments and attachments to make sure others are up to date, without calling a meeting or making a phone call. Trello also allows you to upload file attachments, create checklists, and add labels and due dates.
Trello is available for iPhone, iPad, Web, Android tablets and phones, Windows 8 and Kindle. It is also supported by most big web browsers. A major plus is the fact that it is free to use. There is the option of upgrading to Business Class or Enterprise if you want more sophisticated features or to manage a large number of teams at once.
Control your emails: SaneBox
Going through hundreds of emails a day can be a time-waster, especially if you are on the road for most of the day. Sales reps can benefit from an app that manages your email for you while you tend to more important issues. This email management tool filters important email from not-so-important email.
There are two areas added to your inbox, called SaneLater and SaneBlackHole. SaneLater is where emails are sent that are less important or that can be attended to later. SaneBlackHole is where you can drag emails that you want to unsubscribe from – which SaneBox does for you.
If you tend to forget to follow-up on important emails, you can tell SaneBox to remind you to email someone within a certain amount of time, like a week or even the next day, if you haven't heard from them yet. A snooze folder in this app helps you to temporarily relegate emails that have a low priority to another area until you have the time or information to deal with them.
SaneBox is available for Gmail, IMAP, Outlook, iOS, Exchange, Yahoo!, AOL and iCloud. You can sign up for a free 14-day trial to decide if you like it or not, and an Enterprise plan is available which is great for connecting teams.
Track your expenses: Expensify
If you are a sales rep then you probably spend a lot of time on the road. Instead of tracking your expenses while travelling by saving a pile of paper receipts, a mobile app like Expensify can save you time and the need to find storage for those paper slips.
One of the most helpful features of Expensify is SmartScan, which allows you to take a picture of any receipt which is then uploaded to your account. This feature then automatically fills in the expense details or attaches it to the related credit card expense.
Not only can you enter expenses immediately after they occur, you can also attach time to the expenses by entering the hours and the rate of those hours. With Expensify you also get to record distance (miles or kilometers) covered through odometer readings or the GPS tracking feature.
Travelling across greater distances can also be tracked through an itinerary feature that reports on all information from a particular trip (like flight information, flight times, etc.). At the end of it all you can get an expenses and receipts report that shows unreported and reported expenses as well as those that have not been synced. These reports can ultimately be sent to head office so that they can start processing them while you continue doing business.
This free app can be downloaded for iPhone, iPad, Android, Blackberry or Windows Phone.
Manage your calendar: Sunrise Calendar
This calendar app has been touted by many as the best of its kind. Simply put, it puts all of your events in one place so that they can be viewed easily. It sifts through your email and other items to see what is scheduled and what you may not have added yet yourself. It syncs in real time (between your phone, tablet and computer) and updates in the background, so you don't have to do anything.
Some other helpful features include:
*  agenda, week and month view
*  Google Maps previews for maps and directions
*  birthday integration
*  photos and other details from social media of the people you will be meeting
*  weather forecast for any day
It is available for iOS, Android devices and web (including a Chrome-based extension that works offline). The web app specifically has a few added features, like the event history of a particular place, time-zone picker for when you travel, and pop-ups for from maps to events.
All these features have now been joined by Meet, an Android and iOS keyboard for meeting scheduling. Meet helps you select available time slots for potential meeting times and then send it through as a link to other people (even if they don't use Sunrise).
The app can be connected with Gmail, iCloud and Exchange. It can also connect with Facebook, Trello, Foursquare, Tripit, Songkick, Wunderlist and more. It is completely free with no adverts to distract you.

Our own Onsight sales rep app helps sales reps to show products to customers, to generate quotes and to capture orders out in the field. You can sign up now for free.