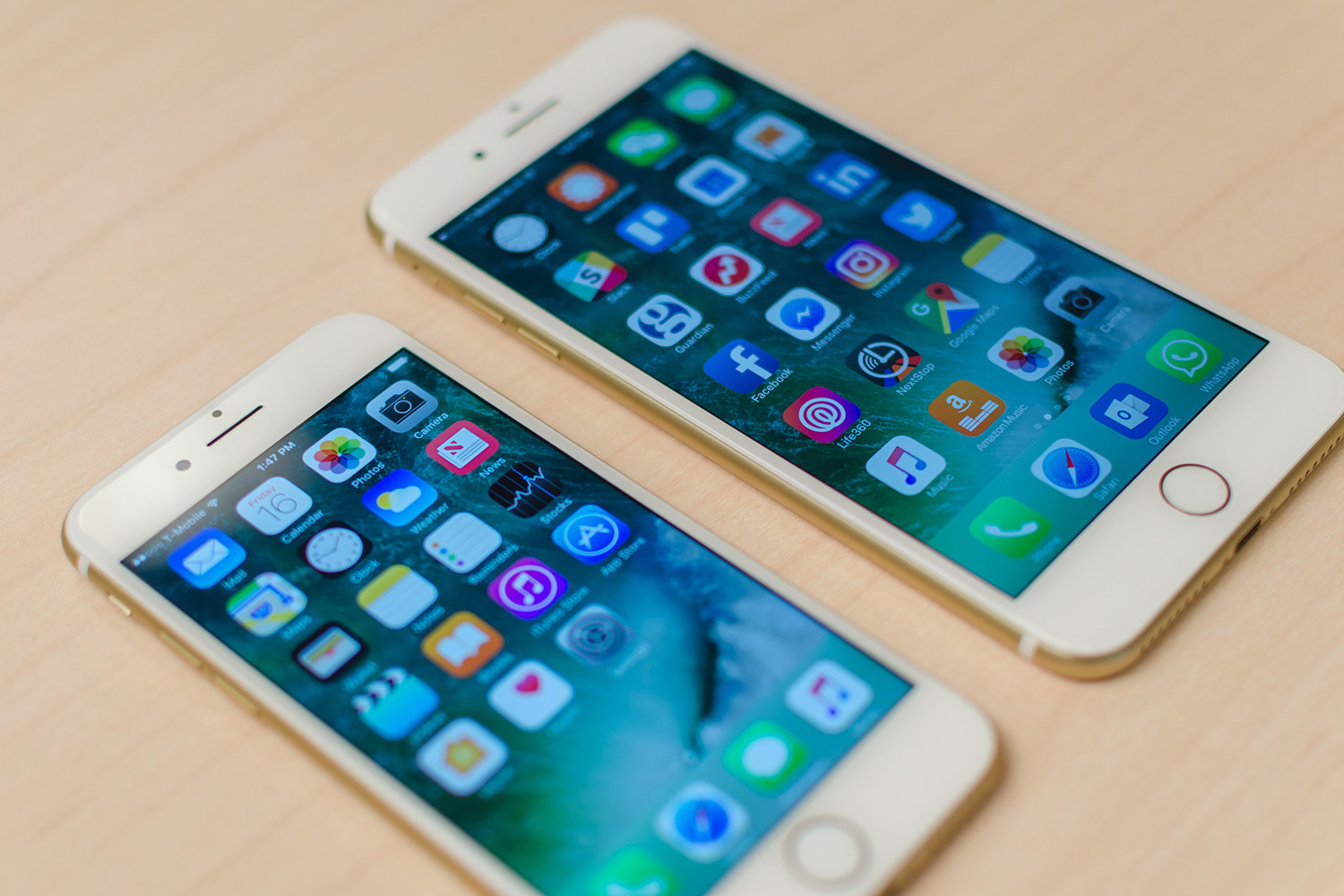 On September 7, Apple officially announced the iPhone 7 and iPhone 7 Plus at an exclusive keynote event. So what's the big fuss?
Even though rumours have been going around about it for a while, the event confirmed that the new iPhones will have no headphone jack. Instead, a second speaker has been added for stereo sound. Apple has developed special EarPods with a Lightning connector that is included when you buy the phone. Additionally, an adaptor will also be included so you can still use your regular headphones should you want to.
The iconic Home button has also been shown the door. Instead of a physical button that you click on, it is now force (or pressure) sensitive – the same as is the case with Force Touch trackpads seen in recent MacBook laptops. Taptic Engine haptic feedback (as seen in the Apple Watch) has also come into play which provides vibration feedback for various alerts.
On the standard-sized iPhone 7 the camera has been given an upgrade with a brighter lens that lets in 50 percent more light. Optical image stabilisation and a 12-megapixel sensor have also been included. The front camera has been upgraded to 7-megapixels for better selfie-taking and video recording.
The larger iPhone 7 Plus now boasts a dual-camera system which allows for 2x optical zoom without losing the quality of the image. The one lens is equivalent to a standard 28mm, which is useful for taking wide angle shots and the other one is a closer, 60mm equivalent lens. A new feature allows you to create a shallow depth of field by employing both lenses at the same time.
Apple has also come up with new wireless headphones called AirPods. No wires connect the left and right headphones to each other so they are truly wireless. Sensors in the AirPods detect where they are in your ears and motion accelerometers detect Siri. These headphones have five hours of battery life and come with a battery pack that provides 25 hours of use once charged. AirPods will be available for purchase in late October.
These new releases also come with improved battery life. It is said the iPhone 7 will last two hours longer than the iPhone 6S and the iPhone 7 Plus gets an hour up on the 6S Plus.
Design-wise, not much has changed. It looks and feels very similar to the iPhone 6S and the iPhone 6 but with a more rounded aluminium body. The matte metal finish we've become accustomed to has made way for a glossy, mirrored look. A new colour, Jet Black, has been introduced and it is much richer and blacker hue than has been seen before. However, Apple has warned that the Jet Black colour scratches very easily so buyers beware.
Previously the base storage for iPhones was 16GB but now it starts at 32GB and goes up to 256GB. The two new iPhones will become available for purchase on September 16 of this year and pre-orders start on September 9.
Alongside the iPhone releases, Nintendo creator Shigeru Miyamoto also took the stage to announce Super Mario Run for iOS. It has the look and feel of a 2D platformer while borrowing mechanics from endless runner games like Temple Run. Miyamoto noted that it's the type of game you can play one-handed while on the subway (hopefully not while you're driving!) Super Mario Run will also feature a multiplayer mode. Expect it to be released in time for the holidays.
Other Apple news
Aside from the iPhone 7 and iPhone 7 Plus making an appearance, the second generation of the Apple Watch was also announced. The Apple Watch Series 2 has a brighter screen than its predecessor, a new chip to make it faster and built-in GPS. This GPS feature is especially noticeable when using the Night Sky app. The app shows you a map of the stars and when you raise your arm to the sky and move it, the sky moves along with you.
The watch is now water resistant which is a great feature for those who swim regularly. The watch locks up while in water and by twisting the digital crown it knows to clean water out of the speaker.
The Series 2 is certainly a treat for those who like to remain active. It helps to track one's position on a hike and map runs without the need to take your phone along with you. It can also calculate the time and pace of your runs.
There was talk of a Pokémon Go app becoming available for the Apple Watch but unfortunately it is currently nowhere near ready. It should be released late in 2016 but no official date has been announced.
The Apple Watch Series 2 comes in three materials – ceramic, aluminium and stainless steel. There is also a custom-designed, fashion-forward Hermès version and a Nike+ version for the more sporty types of people.
It will be released in late October and ships with the new watchOS 3. Those who already own an Apple Watch should be able to download watchOS 3 on September 13.
Apple OS updates are also coming into play in the month of September. iOS 10 will make its appearance on September 13 and will be the biggest of its kind to date. One of the most noticeable changes will be with regards to Siri's abilities. She can now handle image searches with ease and transcribe voicemails. Users will see the release of more widgets and improved notifications. Another big change is the fact that both Siri and iMessage have been opened up to developers.
macOS Sierra didn't make an appearance at the keynote but the update will become available for download on September 20. This update means Siri comes to Mac so that you can access things like files and emails through voice commands. The Continuity feature will allow users to store and move files seamlessly between your Mac and iPhone.