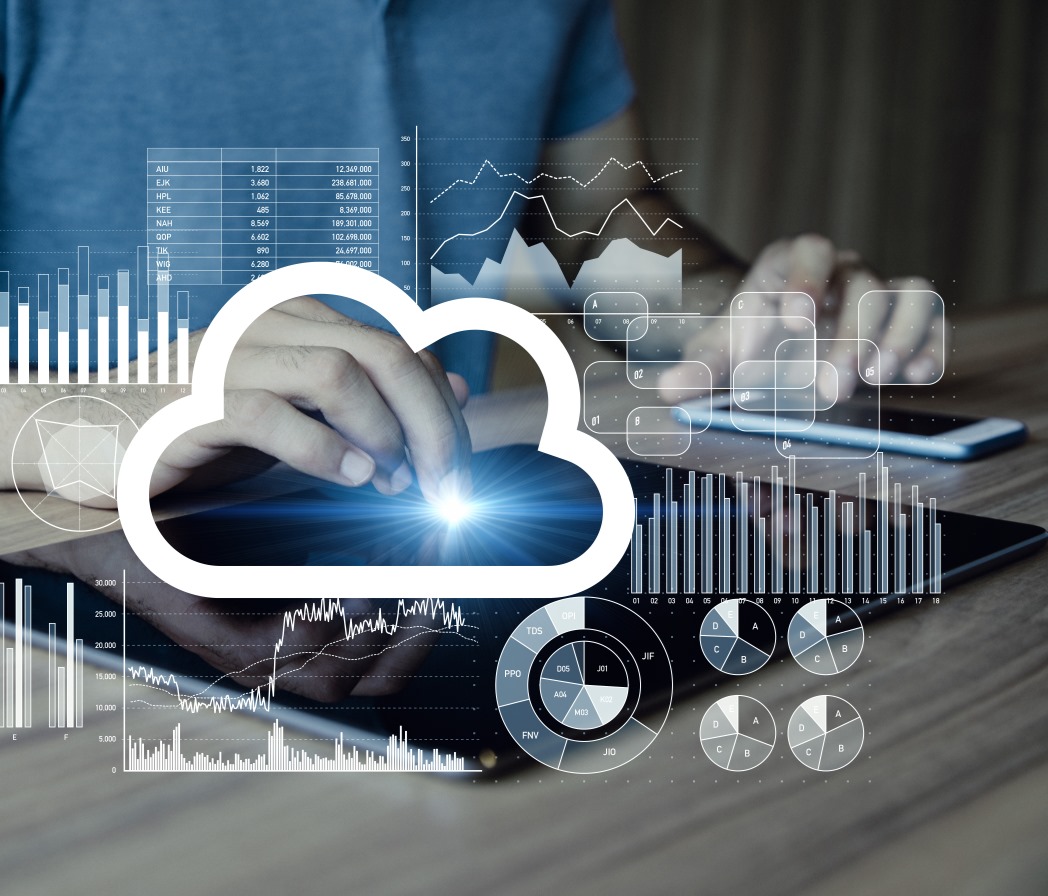 Cloud computing, or 'the cloud' forms one of the largest components of the ongoing trend towards digitisation of business processes. More and more enterprises are embracing and adopting this revolutionary technology. Should sales teams be starting to consider migrating processes to the cloud?
Let's start with the basics. Cloud computing is, at its core, a form of 'virtual' application hosting. It's not actually virtual, of course, but from a user perspective it may as well be. What it means is that rather than purchasing, downloading, installing, and storing your applications on your local network, they are instead stored and accessed from off-site servers belonging to a cloud provider. Your apps are 'in the cloud'.
You may already be making use of cloud technology even if you don't realise it: you might stream movies from services such as Netflix, or your sales team may be using a mobile sales app from their devices (in fact, cloud sales apps account for more than half of all sales software spending). In many cases, like the Onsight sales app, you don't pay for an outright purchase of these apps; instead, it's offered to you as 'software as a service', or SaaS, where you pay a subscription on an as-needed basis.
Benefits of Cloud Computing
There are many benefits of utilising cloud technology that can be seen across the business as a whole. Cloud computing holds the potential to save on the cost of hardware; to create better access to valuable data; to free up internal resources for more productive and profitable tasks; to offer a unique type of flexibility that hasn't previously been seen in what are now considered to be 'legacy' systems and platforms. Cloud has fast become one of the key facilitators towards a true digital transformation.
Cloud's Role in Sales
What many sales-based businesses will want to know is not how cloud technology can impact a business as a whole, but more specifically, how it could transform sales. The truth is that cloud computing could significantly boost many aspects of a sales-based business, with the Harvard Business Review listing the cloud as one of the biggest technology trends that sales teams across the world should be considering. Cloud technology has the potential to transform both field and call centre-based sales teams. Here's how.
Field-Based Sales Teams
Traditionally, technology has not really been a part of the field sales process. A printed catalogue, a business card, and a list of local businesses was all that was needed. However, tech has definitely started to creep in here, acting as an incredible way to create a better connection and enhance collaboration.
1. Software Utilisation
The SaaS market is growing at an almost unprecedented rate, holding nearly 70% of the public cloud market in total. Many of the most reputable and most effective mobile apps for sales teams are available on a SaaS basis, so sales teams really need to switch to the cloud to make full use of available resources.
2. Simple Data Access
Cloud computing is not only facilitating, but also accelerating the shift of sales from a primarily office-based job to one of flexibility and versatility. With data stored in the cloud, it becomes accessible from anywhere, at any time, from any device – and this is creating a brand new world of mobile sales.
3. Efficient Processes
Sales reps are becoming more efficient and are able to make better use of their time thanks to the benefits of the cloud. Comprehensive, all-in-one solutions for sales reps allow them to consolidate all of their day-to-day applications onto a single platform, for quick and easy use and automatic syncing.
4. Additional Security
The off-site, 'virtual' aspect of the cloud has resulted in security concerns being voiced. These issues are constantly being addressed by cloud providers, who are finding new and improved ways to protect your client's data. In fact, most businesses that use the cloud claim there are definite security benefits.
Office-Based Sales Teams
Despite the numerous benefits of cloud computing, a recent report suggests that less than half of sales contact centres have already migrated to the cloud, although many more are understood to be planning to adopt this technology in the future. Office-based benefits include:
1. Improved Speed
While there have been issues with cloud latency in the past (a report by data storage company Interxion claims that there can be a 15% load time delay for every 20ms drop in network latency), in terms of your own office computers/hardware, the fewer applications that are stored internally, the faster they'll run.
2. Enhanced Customer Experience
At a time when 'real time' sales, service and support is fast becoming the norm, businesses are expecting more from their suppliers. The widespread benefits of cloud computing, such as better access to client data and a real time approach to order/quote generation, can really help to provide a positive overall experience.
3. Cost Savings
Office costs can quickly add up. However, one of the biggest benefits of cloud computing is the cost saving that can occur through not having to store and manage your data internally. Cloud platforms are much lower cost than in-house systems, with no need for large servers and cooling.
4. Better Business Continuity
Have you considered what would happen to your data, your working relationships, and your reputation in a disaster scenario? One of the main reasons why many sales-based businesses are moving to the cloud is because cloud computing facilitates business continuity, with secure, off-site storage of data.
Adopting Cloud Technology
While sales-based businesses should always carefully consider their plans, processes, and aims before undergoing a full cloud transformation, it is possible to start enjoying some of the benefits of the cloud quickly and easily, without uprooting your entire way of working. A good starting point is by checking out SaaS applications, and getting a better understanding of how the cloud can fit in to your sales team.