Taking notes the traditional way can be confusing if you don't have a storage and filing system going, and it is a very obvious waste of paper. Doing this on a PC or laptop is possible but there still needs to be a place for every note and then you need to remember their place for future reference. Along comes apps specifically created for remembering what to do, a task that many of us struggle with when our days become busy and frantic. Here is a review and comparison of some of the top note-taking apps now on the market.
Google Keep

This is the newest app on the market and it was one of the most anticipated of this year. Currently it is available on Android and iOS, with a Chrome extension recently released.
There are plenty of advantages to using Google Keep. You can customize the colour of your notes which means that it is easier to distinguish them from one another. In the iPhone app it auto-saves the notes you are busy with (but it is not yet available as a feature on Android) so no worrying about losing your information halfway through. The interface of this app is quite uncluttered and clean which means less looking around for the things you need. It has a great bookmarking tool where one can visit a site, click "share" and it saves the link along with a preview image in a note. Also, on your app's homepage you have a thumbnail view of your notes for easy access (some might say it resembles sticky notes).
On the opposite end of the spectrum, you cannot share notes with others using Keep. There is no notebook functionality, as is the case with many other note-taking apps. So notes that have the same theme cannot be consolidated into a notebook, leaving them loose and disjointed. There is no drag-and-drop function and text cannot be formatted. One can only add images or only audio in a note, but one cannot add both at the same time. Also, there is no offline mode for Google Keep so you always need to be connected.
Google Keep is great for those already submerged in the world of Google. If you are a Google Chrome user with everything from your Drive to your Gmail connected to one another, Google Keep will be extremely useful for you since it keeps everything similar together and no separate log-ins necessary.
Evernote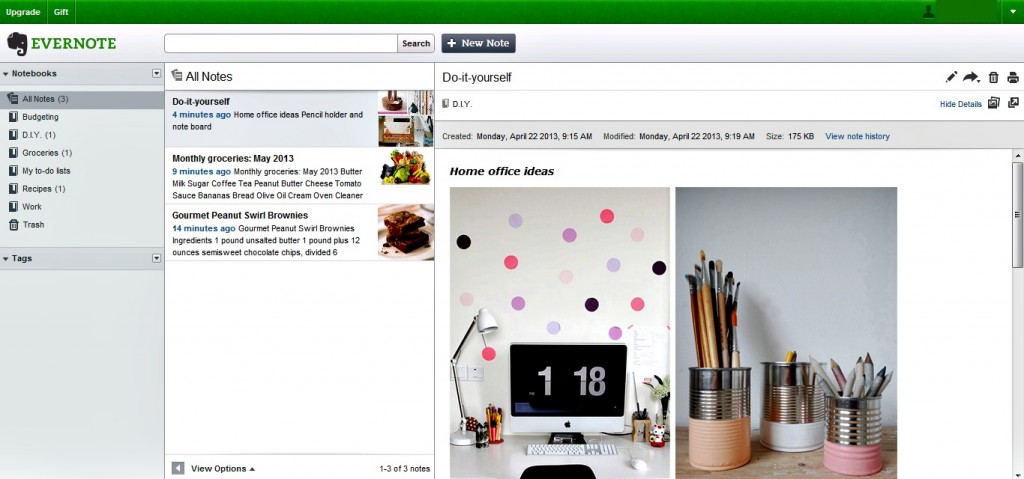 Evernote is the app that started to shift the focus to apps that organize our lives even though there were many apps already available with the same or similar functionalities. It is available on all the biggest operating systems.
Evernote has a strong syncing system that links your desktop, laptop, tablet and mobile. All you need to do is to ensure that you have the apps installed on each of these devices. It works every time (even though it does take a while for all of them to catch up with each other). Everything added to Evernote is put in the cloud so all of your information is backed-up and kept for safekeeping and later use. Your notes in this app you can tag with keywords (such as "work") for easy searching and finding later on. There is also no need to rework all of your other documents from other management systems as you can drag and drop old documents and Evernote will incorporate it. One is also able to share your notes and notebooks with other Evernote users. A great feature of Evernote is the fact that there are many other apps (like Penultimate and Skitch) from the same company that you can add to your main Evernote app that will allow you to, for example, scan receipts or convert handwritten notes into text. One can also create "stacks" where notes of similar content are grouped together.
The web app for Evernote is unfortunately more limited than its mobile or tablet apps. It hasn't got powerful text editing software so it is easy for notes to look like a jumble of letters and formatting isn't always easy to do. A feature of Evernote that is sorely lacking is the deletion of notebooks. It is either nearly impossible or not available at all, so be absolutely sure that you will use a notebook in future otherwise it will just clutter up your workspace and become useless. It is also difficult to find notes as it is not structured very well.
Microsoft OneNote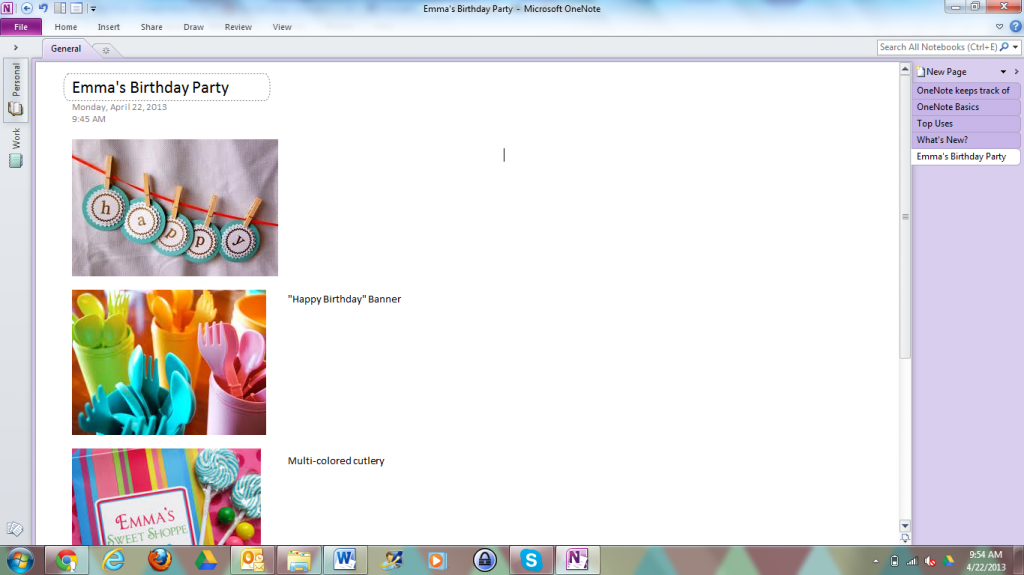 OneNote is an application that is part and parcel of Microsoft's Office 365 and comes free with Microsoft's SkyDrive. You can also use OneNote as a standalone app on Android, iOS and Windows Phone.
One of the things that is advantageous of this app is the fact that one has many levels of organization making it easier to track documents according to their functions. One can add a Section Group with which you can place a notebook within a notebook – almost the same as adding a folder within a folder in Microsoft Office. You can also create a notebook based on a dedicated topic such as Website Design or News. Microsoft's OneNote has many rich media options. You can add Web links, text and images to notes within OneNote's free versions but within the Microsoft Office version you can insert Excel spreadsheets, scan in images, add screen clips and add audio clips. It's also great that one can move text and pictures around manually to place them in abstract positions for those creating mood boards, planning or brainstorming. Obviously, considering the capabilities of Microsoft Office, it would stand to reason that Microsoft OneNote has great text editing abilities. One can create numbered and bulleted lists, add checkboxes, insert photos into one's notes and so on. Another great function of OneNote is the fact that one can have notes and notebooks password protected for those worried about security.
There is a syncing capability but it takes a little more work to get it running smoothly. Even though it has great text editing features (more so than Evernote and Google Keep) but it does not offer all of the functions that Word does (such as the formatting of text types).