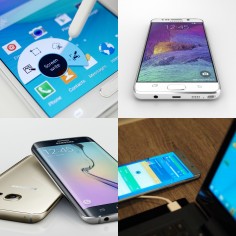 Samsung's latest releases, the Galaxy Note 5 and the Galaxy S6 Edge+, are cleverly targeted at Apple users. The company is providing a 30-day trial to iPhone users which includes a free activated SIM card as well as a cable for migrating data.
Let's take a look at what these new phones have to offer:
Samsung Galaxy Note 5
As the first phablet (a blend of a phone and a tablet) to become commercially successful, the high-end Galaxy Note series was designed with the power-user in mind. It takes advantage of a larger screen to provide multitasking features, and a stylus for taking notes on-the-go.
Operating System
Android v5.1.1
Design
Dimensions: 153.2 x 76.1 x 7.6mm
Samsung is getting rid of the plastic-painted exterior that has bothered so many users before. The Note 5 has an aluminium frame with a glass backing, it will be available in White Pearl, Black Sapphire, Gold Platinum, and Silver Titanium. It also features reduced bezels on all four sides. It weighs about 171g, making it a few grams lighter than the Note 4, and it is also thinner than its predecessors. The accompanying S Pen stylus also received a makeover with matching sleek metallic finishes.
Display
Gorilla Glass 4 screen and 5.7 inch display backed up with Super AMOLED technology.
2560 x 1440 resolution with 518 pixels per inch.
Battery
Samsung has downsized the battery and also sealed it shut so that it cannot be removed or replaced. However, the Note 5 sports faster charging technology, and is fully charged in 120 minutes through wireless charging.
Storage
It is likely that the Note 5 will still offer 32GB, 64GB and 128GB storage options, but there is no way to expand on the built-in memory as there is no microSD card. It has 4GB of RAM which could potentially make up for the lack of add-on storage.
Camera
It has a 16-megapixel camera on the back and a 5-megapixel camera on the front. The camera sports the same sensor as the Galaxy S6 which helps it to focus quicker, and perform well in most lighting conditions. It has also been updated to support manual controls, offer RAW output and use optical image stabiliser (OIS) in video.
S Pen stylus
Unlike the styluses from previous Note phablets, this one is metal instead of plastic. It also requires one to push the stylus inwards before it will pop out. Items on the Air Command menu, which appear when you click on the side button, now form a semi-circle and makes the rest of the screen go translucent. You can also add your own apps to the Air Command menu. Furthermore, the stylus can be whipped out at any time without unlocking the screen first. You simply write on the black screen and the text appears in white font, definitely quick and easy for note-taking.
New Features
YouTube live stream: you can record a video on your Note camera that is streamed directly to YouTube with only a 30-second delay. It resembles live streaming app Periscope and doesn't require you to download an additional app.
Scroll Capture: this is an advanced screen capture function. It not only grabs what is visible on the screen, but also what is hidden (like all webpage images, text and links) so that one could have it available for offline use later.
Fingerprint sensor on the Home button for added security, and for making mobile payments.
The Samsung Galaxy Note 5 will be available in the US on 21 August 2015, but worldwide release is likely to only happen in 2016.
Samsung Galaxy S6 Edge+
Operating System
Android v5.1.1
Design
Dimensions: 154.4 x 75.8 x 6.9mm
As with the Note 5, the S6 Edge+ is made of aluminium and Gorilla Glass 4 which is said to be scratch-resistant. A unique feature of this phone is that the glass wraps around the left and right edges. It is said to be the world's first dual-edge display smartphone. It weighs about 153g.
Display
The S6 Edge+ has a 5.7 inch quad HD Super AMOLED display. It has 2560 x 1440 pixels which equals to 518 pixels per inch.
The display is made to seem immersive due to the glass wrapping around the edges.
Battery
The S6 Edge+ loses its popular removable battery just like the Note 5. However, the battery life has been made very reliable and can last more than a day, even with rigorous use. This is something that was an issues with its forerunner the S6 Edge. Another plus point is the fact that one can either charge the phone via a USB cable or wirelessly with a compatible pad. The USB option has super-fast results – from flat to full charge in 90 minutes.
Storage
Storage options are limited to 32GB and 64GB as the 128GB option has been removed. Similar to the Note 5, there is also no microSD slot on the S6 Edge+. This makes it a deal-breaker for people who feel like if you take away the largest storage option you need to add options to enlarge the storage on your own.
Camera
The camera is the same as the S6 and S6 Edge. Its front-facing camera is 16 megapixels and the back has 5 megapixels. It has an f/1.9 aperture with great low-light capabilities. The back camera can shoot 4K-resolution videos which is good quality, but using this feature tends to heat the phone up a lot.
New Features
You can access apps, favourite contacts and more by simply swiping from the edge of the phone, no need to dive into the Home screen first. You can also select whether you want this access to be on the right or the left.
Video can be live streamed to YouTube from your camera. This feature is also added on the Note 5 as mentioned previously.
Fingerprint sensor on the Home button for security, and for use with the upcoming Samsung Pay feature.
The Samsung Galaxy S6 Edge+ will be available for worldwide purchase on 21 August 2015.