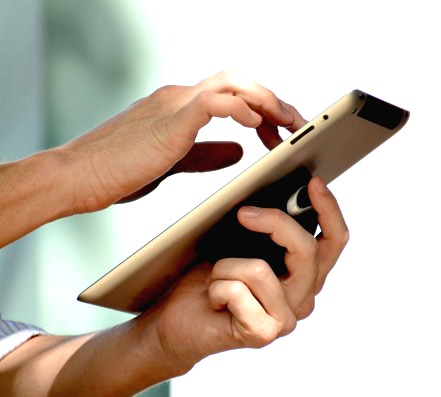 If you're going to be using an electronic product catalogue as part of your day-to-day sales activities, you need to have the most effective tools. We've already discussed what steps you can take to find the perfect tablet. This time around we discuss hand grips, and also have an in-depth look at how to choose the best cover for your tablet.
Handgrips for tablets
Hand grips have become increasingly popular in recent years. There are many different models out there, each with varying features designed for specific use. If you handle a tablet extensively on a daily basis, a handgrip can help combat hand fatigue as well as make it easier to move the device around while showcasing your electronic product catalogue.
Basic hand grips consist of either a self-adhesive Velcro patch with areas to place your fingers or full hand in, or it has an elasticated strap that stretches across the back of the tablet. Newer innovations in hand grips now allow for the tablet to swivel or turn whilst your hand is in the hand strap. A popular example of this is the Swivel Grip Hand-Held Holder by Urge Basics. This type of product allows 360o rotation of the tablet so that one can easily switch from portrait to landscape mode.
Good news is that almost all hand grips are compatible with any hand size and should fit all types of tablets, no matter the brand. However, do check for compatibility before making a purchase.
Different types of tablet covers and their unique features
As tablets have become more popular for both work and personal use, the amount of protective covers available have increased. It may be bewildering to find the perfect one but let's simplify matters for you. There are basically three types of covers and each type has its own specific function and features.
*  Case
A case is usually made of hard, stiff and durable material, and encases both the front and back of the tablet tightly. It has openings so that one can have access to the buttons on the sides of the tablet. This means that cases have to be chosen based on the exact type, size and brand of tablet so that the openings line up. The main function of a case is to protect the tablet from unforeseen falls, bumps and scratches, thus making it a good choice when travelling frequently.
Covers also have additional features such as a stand so that one can use the tablet hands-free while it is propped up on a table. Purchasing this type of cover means that it is something you likely won't be taking off and is thus a more permanent accessory.
*  Sleeve or jacket
A sleeve typically acts like a pocket where you slide the tablet in at the top or side and then close with a zip or other fastening device such as Velcro. It only serves to protect the tablet during travel or when it is not being used. Unlike a hard cover, one cannot work on the tablet while it is inside its sleeve, and it doesn't come with additional features.
Sleeves are usually made of more flexible material, like neoprene, with a soft interior made from flannel or foam padding. The level of protection it gives your tablet is not the same as a case where impact protection is quite high. It will merely shield it from scratches, light bumps, and perhaps a fall if you're lucky.
*  Skin
Skins are usually repositionable stick-on covers made from vinyl and an additional clear coating that is attached to either the back or the front, or both. Skins can be replaced without leaving residue or marks. It can come with elaborate decoration on the vinyl which is great if you're into creative expression.
Skins allows you to protect your tablet from scratches and fingermarks but is not the choice to make if you're likely to drop or bump your tablet frequently. This option is best for those who don't travel with their tablets and use it in stationary settings. Compared to cases and sleeves, it offers the least protection against accidents.
These are the three basic types available when choosing a tablet cover. Now think about how much you use your tablet, where you take it, how rough you are with it, what additional functions you require, and if you own more than one tablet. Then decide what cover option is the best for your unique needs. For example, if you use an electronic product catalogue your tablet will be your best friend and travel with you on a daily basis. This means that a case made from hard material would probably be most suited to you with its additional functionality, extra protection, and the added bonus of it looking professional when meeting customers.
Getting the perfect fit cover
*  Size
A well-fitting tablet cover means a tighter fit and subsequently better protection. However, if it is too tight it might restrict your usage of the tablet (the buttons might not align or something similar). The best option would obviously be to choose a model-specific cover which is made to fit the brand and dimensions of the tablet perfectly. If you want to opt for something more generic, look up the dimensions of your tablet and make sure you get something that will fit near perfectly. This might mean getting a sleeve instead of a case so that buttons and other functions are accessible.
*  Material
As mentioned above the type of material your cover is made of will affect what it does. Vinyl (what skins are mostly made of) protects the tablet from light scratches but not heavy-duty damage. Silicone and gel-like materials are good for shock absorption from falls and are easy to clean. Leather is also quite durable whilst looking professional and more business-like. Plastic and rubber covers is again great for impact protection but might become dirty and worn more easily than other covers.
*  Brand
What brand of cover you choose is more of a personal preferences but some are, of course, better than others. Many tablet manufacturers have custom covers for their products which ensures a perfect fit. However, if you opt for a brand not similar to your tablet, try to read as many reviews on the product before purchasing. For those who use their tablets for mobile sales, a tablet cover is an investment that needs to be based on the amount of usage (and travel) the tablet will be getting and your unique needs.
*  Features
Many covers are not simply overalls for your tablet anymore. Covers can have additional features to make your life even easier such as hand grips, keyboards, reading lights, and hands-free stands. If you're a heavy-duty tablet user, then purchasing a cover that has some of these added features would be a smart move. For instance, having a cover with a stand or a swivelling hand grip can be especially useful when you need to showcase your electronic product catalogue to customers.