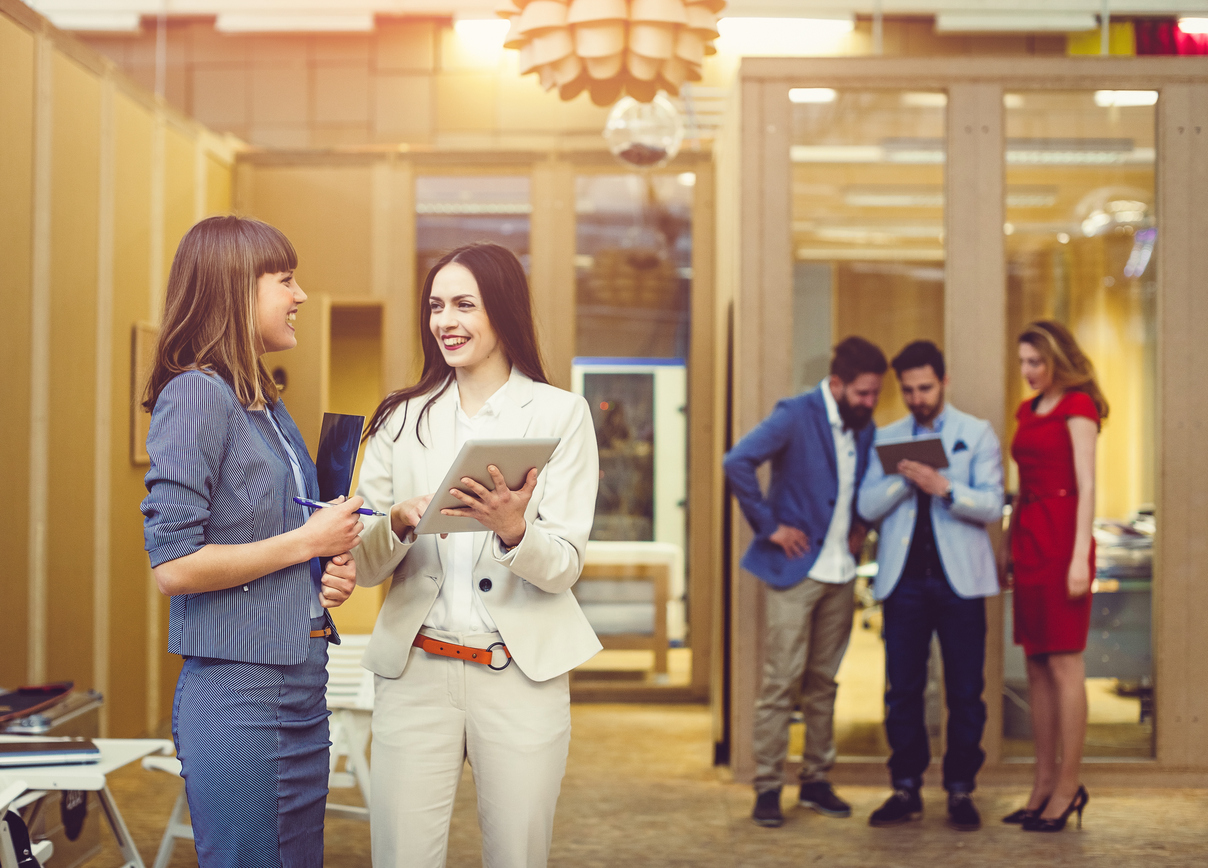 Tablets and mobile devices are popping up everywhere. From tapping in at the doctor's surgery to registering at sports events, mobile devices are being utilised in all spheres of life. Whether in static positions or on the move, tablets and iPads are proving to be useful and real time-savers when it comes to business too. It's no surprise then that more and more B2B businesses are utilising mobile devices to enhance their visibility and client interaction at trade shows.
The 2016 Marketing Technology Survey (conducted by EXHIBITOR magazine) queried representatives from nearly 200 different companies on their use of technology at trade shows. The survey found that employing technologies such as tablets, interactive touchscreens and mobile apps have led to "an increase in booth traffic, brand awareness, and sales leads." But that's not all, the survey also found that using these types of tech boosts interactions between sales reps and attendees, and plays a positive role in further improving relationships with customers and new prospects alike.
Attracting the crowds
Clearly, having your tablet at hand has many advantages and there is definitely something about tablets that causes people to stop and wonder over. Whether they are simply intrigued or genuinely interested, tablets are a surefire way of attracting a large amount of attendees to your booth.
It doesn't have to be all serious as there are a number of fun ways in which tablets can be used to attract visitors. At the Consumer Electronic Trade show in 2013, American Express Open had attendees compete against each other in a digital version of the children's game Memory. The game, played on tablets, not only ensured an increase in visitors to their booth but also acted as an icebreaker, which enabled interaction afterwards and the opportunity to educate visitors.
Accessing your marketing library
Once you have attendees' attention, the serious business can begin. Sales reps can use their tablets as multifaceted mobile tools to market products. With a tablet, you can access your entire marketing library; from product brochures and catalogues to video demos. Having a tablet with all the tools on hand is, therefore, a no-brainer. It will also save you money as there will be no need to bulk print thousands of expensive, glossy flyers or paper catalogues.
Acquiring new leads
Trade shows are the ideal place to meet new prospects and those all-important leads. If you've got the right setup, you can actively market your business, get your brand noticed as well as engage with prospective new clients. Using a tablet not only gives you mobility, it also allows for a more personalised interaction between sales reps and prospective clients. Additionally, by allowing prospects to browse your electronic product catalogue while highlighting key benefits and features will enable you to go into more depth about your products. At the same time, you can identify where the prospect is in their buying journey and exactly what appeals to them, and as such create a unique opportunity to tailor to their specific needs.
Following-up made easy
If you have a tablet fitted out with an integrated mobile sales app you can instantly capture new prospects' information straight onto your tablet, making it much easier to collate and access all of your leads after the trade show. With a mobile sales app, all relevant information that has been captured will be ready for you to follow-up on. Thus, minimising the time in between meeting and following up on new leads.
Gathering valuable market intel
When it comes to market research, trade shows are great places to measure product satisfaction or customer service as well as gathering market-related information. You can create an opportunity for attendees to engage with your company by placing static tablets with quick surveys or opinion polls at your booth. This ensures that there are no wasted opportunities to engage with new prospects. While you are busy chatting to one person, an unattended visitor can leave an opinion, fill in a quick survey or simply register their interest onto a booth tablet.
Getting your product noticed
Similarly, tablets and iPads can also double up as helpful information stations. This trend is often seen at big auto trade shows where companies have tablet display stands set up next to their new prototypes. Attendees can read all about the new prototype's specs and features while ogling the product. Regardless of the type of industry, big or small, display tablets can be used to gain useful knowledge on your products as well as essential company information. Product demos or short videos on how your products perform in real life situations is a great way to show what your company does. It is also an excellent way to increase brand awareness.
Did you know, according to the 2016 Marketing Technology Survey, 54% of respondents said that technology has enabled them to reach their market object of increasing leads, while 73% felt their objective of creating brand awareness was met through the use of technology?