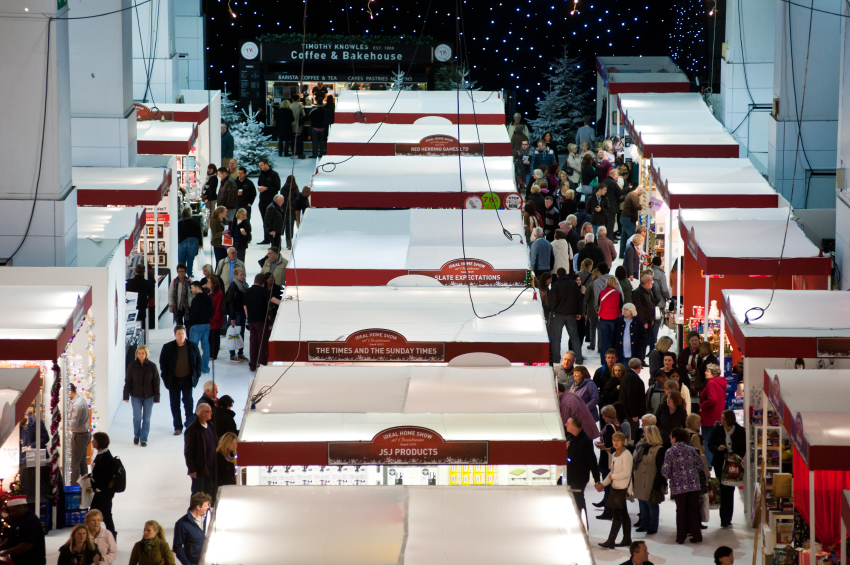 Trade shows are excellent opportunities to get face-to-face time with prospective buyers without the need to schedule individual meetings. Other benefits include being surrounded by your ideal target market, making your brand more recognisable through signage and documents, and also the opportunity for on hand conversations with prospective clients.
Here are some tips on making any trade show opportunity a great return on investment:
Pre-show prep
Get the word out there about your involvement with a trade show. You can do this by posting on social media, publishing a press release or writing a series of blog posts in the run-up to the event.
When spreading the word make a case for why people should attend the event. Are there going to be interesting speakers or informative discussions? Of course, also talk about what you will be bringing to the event such as a special offer, a product demonstration or a new release.
If you've been chasing down a potential client but have not been able to commit them to a formal meeting yet, personally invite them to the trade show and provide them with a pass. This places less pressure on them to make a commitment as is the case with a one-on-one meeting.
Location, location, location
Where your booth is located is very important. Sign up for trade shows as early as possible to ensure that you have a choice in the matter. Corner booths are ideal as well as booths that are located near high traffic areas, for instance close to an event or stage area.
Clever booth layout
No matter what furniture pieces you choose to use, make sure that they are arranged in such a way that the booth seems welcoming. Avoid placing tables right at the front of the booth as this blocks the entrance. Also, don't make prospective customers feel like they are trapped when inside the booth by making the space too cluttered.
Make the space comfortable. Perhaps use soft carpeting so that people feel like they want to stay there longer. Use lighting that is easy on the eyes and chairs that aren't too hard to sit on. Make sure the temperature inside your booth is also not too hot or too cold.
Offer something extra
Many companies will give away freebies at trade shows. Even though it is effective in bringing people to a booth, it might attract people who are not necessarily interested in your business but only in receiving the freebies.
If you want to give something away for free, make sure that it is relevant to the buyers you want to attract and to your brand. Also, freebies don't necessarily have to mean something is physically being given away. You can also offer special discounts or deals for those who come to your booth and show a genuine interest in your company.
Make signage dynamic
Signage is one of the main ways you can attract the attention of prospective clients. Start with narrowing down what your main message should be. What you say on your signage should tell visitors exactly what you do and what you sell immediately. A six-word tagline is the best as it can be read instantly and therefore be interpreted just as quickly.
The back wall is the best focal point for small booths, so make sure to utilise it. Use only a maximum of three colours, using more than that can make the booth seem too busy and overwhelming.
Moving graphics are also a great way of grabbing attention. Many people opt for printed graphics but the use of screens can be just as impactful. Use moving images to demonstrate your products in action and keep it interesting by using a lot of different graphics.
Skimp on the paperwork
Yes, you read that correctly. Oftentimes leaflets, brochures and business cards are simply forgotten about once it is in a person's hand and even thrown away before it has been studied. This is both a waste of time and money.
Become more selective about what you hand out. Provide a small number of large documents and only give these to prospective clients who truly show an interest in your company and products. These documents need to give the person who receives it value (like research, insights or problem resolution) and make them want to read it when the event is over. Also, attach a business card to the documents so they know how to contact you.
Engage in conversation
When prospective clients pass by your booth make sure to engage them in a meaningful conversation. Avoid asking questions that simply require a yes or no answer. Rather keep the conversation open-ended to keep the person engaged and possibly sold on your product or business.
Remember that even though you're in a B2B environment you shouldn't forget that you are still selling your products to people. The prospective client's company may have the final say but the person you are talking to needs to be convinced of the reason they should recommend your products. People need to know that your business is the right fit for their company and that they will be getting something out of doing business with you – whether that be a solution to a problem or insight they did not have beforehand.

The Onsight Mobile Sales app makes participating in trade shows a breeze. No need to lug paper catalogues to the venue – the app displays all of your products and their specifications in an electronic product catalogue on your tablet or laptop. Product orders can be placed directly onto the app while at the event. No tedious paperwork needs to be filled in and clients get immediate service at your booth.