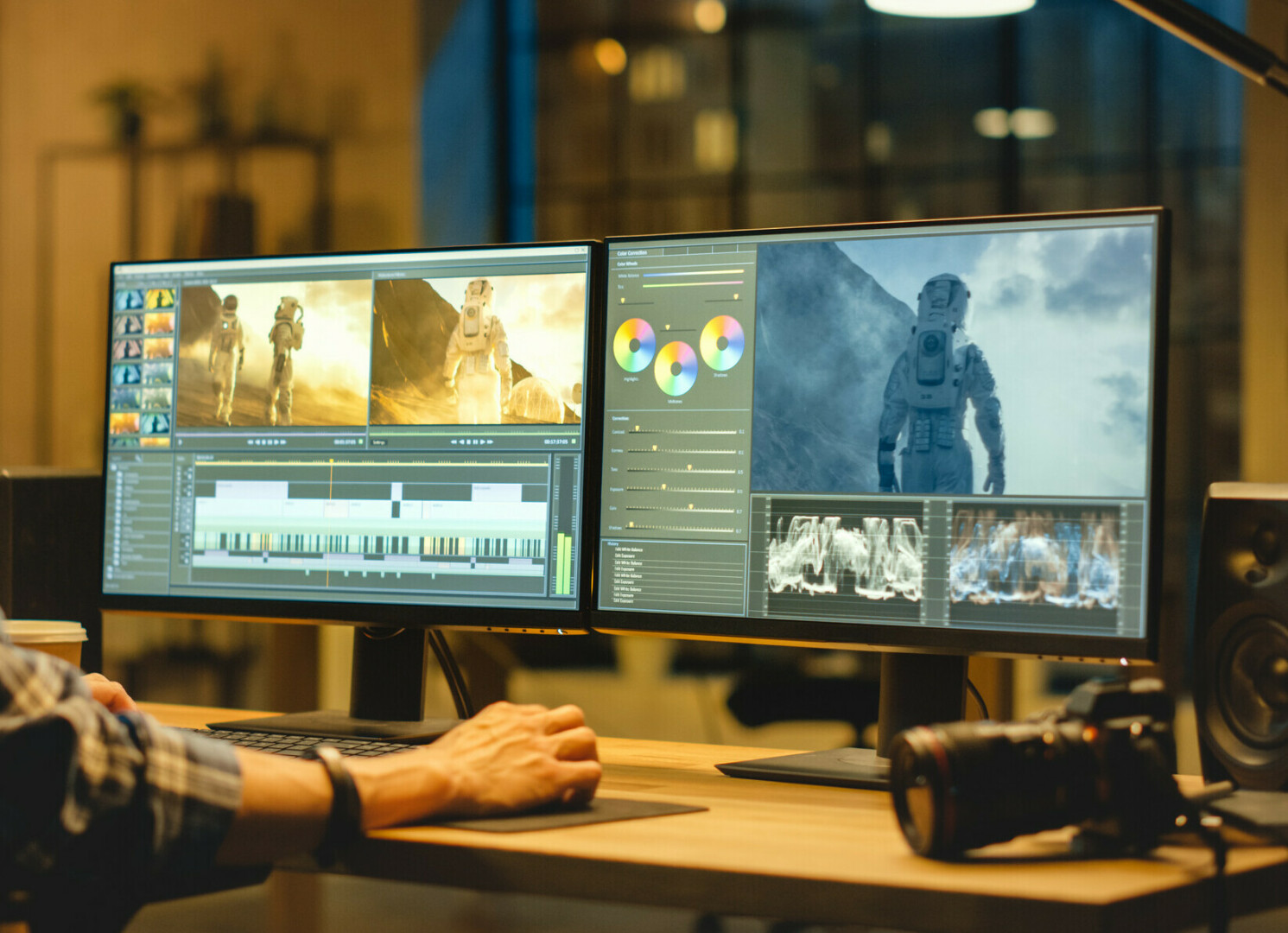 Recent studies show that consumers would rather be told and shown information about a product rather than having to read it themselves. A product demo can do just this. A good product demo is able to draw in potential buyers and clients and increase your sales output. In this way, product demos fall under marketing, but it's also a great tool for sales reps to use when introducing a new product.
An important facet of a good product demo is that it draws attention to a product's most important features. Whether it's just a slideshow or a fully produced video, it always needs an extra digital touch-up to really make it stand out. That's where video editing software comes in.
Video editing software should not only be full-featured, but also easy to use. There's a fine line between accessibility and flexibility; here we will show you examples that do both.
1. Adobe Premiere Pro
Adobe Premiere Pro is one of the best all-round video editing software out there. It is part of Adobe's suite of software, all of which are cleanly interlinked to allow you to access different software easily. Adobe Premiere Pro has access to a robust set of tools that allow you to edit with high levels of control. Adobe Premiere Pro's colour grading, colour correction, and compositing features are flexible enough to provide an array of settings that not only make it easy to create the polish for a shot, but also give great results. With chroma key features, green screen effects are also possible. There are also a wealth of audio editing tools as well. With reverb, compression, stereo balancing features (amongst others) not only will Adobe Premiere Pro make your demos look good, but it will also make them sound good.
Adobe's automated Sensei technology works to make the process easier and more efficient. However, the ease of use doesn't just stop there. Adobe Premiere Pro is able to import a variety of file types as well as easily export, doing the final touches to the video if you so wish it to do so.
2. Adobe Premiere Rush
If what you need is something to use on-the-go, Adobe Premiere Rush is there to fulfill that need. Need to quickly edit a product demo before showing it to a client? Whip out Adobe Premiere Rush and quickly edit what needs to be edited. That's right – Adobe Premiere Rush is the mobile counterpart to Adobe Premiere Pro. While not as robust as it's PC and Mac counterpart, Adobe Premiere Pro sports a multitude of functions that put it above average when it comes to other mobile video editing apps.
While most mobile video editing apps give little more than preset functions, Adobe Premiere Rush gives a bit extra to allow for more customisation. The advanced editing tools are more reminiscent of Adobe Premiere Pro, but the UI could use some help. Nonetheless, it is still a great tool to use quickly and on your mobile.
3. Filmora
Filmora is a video editing software that offers both a free and paid version. The free version of Filmora has all of the features that the paid version does except videos will have the Filmora watermark on it and its stock library will be limited. However, Filmora offers various plans should you choose to want more, allowing you to determine what is important to you and what you're willing to pay for.
Filmora is very easy and simple to use, allowing anyone to learn how to use its software. The UI is intuitive and easy to navigate. More advanced features like noise removal, colour tuning, motion graphics, colour matching and more are also available. Recently, they have added keyboard shortcuts which speeds up the workflow greatly. Filmora also includes a library of royalty-free music and sound effects which even free users can use.
There is also a free mobile version which functions as a limited version of the original app. However, this version doesn't live up to the features that Adobe Premier Rush has. The upside? It's free. If all you need is a few trimmings and touch-ups in the final product demo, then Filmora is all you need.
4. Camtasia
Camtasia is primarily known for its screen recording functionality, but it has powerful editing features to support it. Combined with support for PowerPoint, Camtasia has all the necessary features to create product demos both as a fully fledged demo video and as a PowerPoint presentation. The simple UI allows for drag-and-drop editing to create videos.
Camtasia allows for interactive features to be embedded into videos for you to place on your webpage or show to clients. It's one thing watching a demo explaining a product; it's another to be able to engage and interact with said product demo. A sales rep can easily show prospects an interactive demo and guide them along. Product demos can then be used as interactive tutorials. This allows for a more memorable sales experience.
Overall, Camtasia can be used for more than just creating videos. Tutorials, reviews, slideshows, a smart designer will be able to utilise these tools to be used anywhere. With easy exports to various websites and formatting options Camtasia may just be the only option you need. The only thing it lacks is the ability to import a wider range of file types.