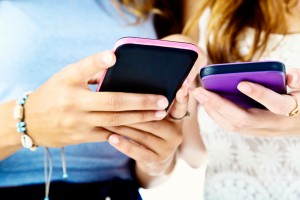 With so many people now able to have easy access to advanced technology, strange and sometimes useless apps are bound to pop up on app stores. Here are just a few examples of these unusual apps— download if you dare!
Cat Paint
Cost: $0.99
Available on iOS only
Are you crazy about cats? Now you can add images of cats to any photo. The cats will 'meow' as you place them on an image and you can even give them laser eyes. Its popularity may be partly due to endorsements from cat-crazed celebrities like Taylor Swift and Katy Perry.
Wakie
Cost: Free
Available on Android, iOS and Windows
If you struggle to get out of bed in the morning, this unusual alarm app may be for you. You simply set your alarm as you usually do and then a stranger will call you when it's time to wake up. If a stranger isn't available, a friendly robot will simply wish you a happy day. You can also be the person who wakes other people up. Now you can wake up on time and possibly make a new friend in the process!
Carr Matey
Cost: Free
Available on Android and iOS
This pirate-themed app helps you find where you've parked your car using either a compass or with walking directions. You can also set a timer if you've parked somewhere that uses a meter to alert you when time's up. With this app you can pretend that finding your car is like discovering lost pirate treasure.
Spirit Story Box
Cost: $0.99
Available on iOS only
"If there's something strange in your neighbourhood, who you gonna call? Ghostbusters!"
Yes, you guessed it; this app is all about hunting for ghosts. It's been reported about in major news outlets and even tested by paranormal investigators. Supposedly this app helps you communicate with spirits and they reply in the form of single- or multi-word messages. You don't have to believe in ghosts to admit that this is one spooky app!
Fake-An-Excuse
Cost: Free
Available on Android and iOS
The perfect app for getting rid of an awkward phone call. This app plays fake sounds during an unwelcome phone call that will give you an excuse to hang up. Some of the excuses include the signal breaking up, a knock on the front door, a crying baby, a broken water pipe, and even a swarm of bees attacking you.
Crack My Screen
Cost: Free
Available on Android only
Pull a fast one on your friends and family with this prank. The app allows you to tap on the screen to make it appear as though the screen of the phone has just cracked. There is even a realistic cracking sound to go with it.
Speech Jammer
Cost: Free
Available on Android and iOS
This app has been the star of many funny YouTube videos. It uses delayed auditory feedback to repeat your voice back to you while you talk which, essentially, confuses your brain and inhibits your speech. It's a really fun app to use with friends and it's guaranteed to make you laugh.
RunPee
Cost: Free
Available on Android and iOS
Have you ever been hesitant to go to the bathroom while watching a movie because you don't want to miss out on the good parts? This app tells you exactly when the best time is to visit the restroom during a movie. It also tells you whether there are extra scenes during the end credits so that you don't leave too early and miss out.
Talking Tom Cat
Cost: Free
Available on Android and iOS
With this app you can have your very own (talking) pet cat called Tom. He responds to touch just like a real cat and repeats everything you say in a funny voice. It may be an app built for children, but we're sure that even adults will have some fun with it too.